Announcing the GUF-P 2000 CA: Belt Conveyor with Internal Drive Drum Motor
Posted on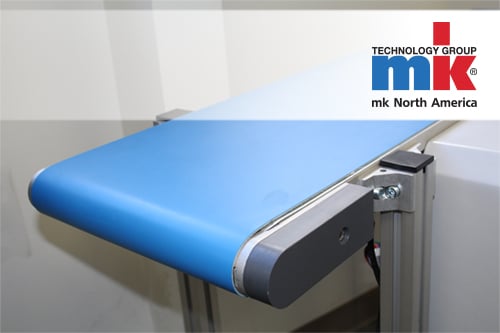 mk North America, Inc. is pleased to announce a new low-profile drive assembly for the GUF-P 2000 belt conveyor. This new drive assembly features an internal drive drum motor, which creates a low overall frame height. This internal drive drum motor conveyor is called the GUF-P 2000 CA. To learn more please read on.
Specifications
The GUF-P 2000 CA is ideal for applications where space is at a premium, and there is no room for an external drive assembly and/or motor. The GUF-P 2000 CA features a 24 VDC drive drum motor, located within the discharge roller of the conveyor. A control card for operating the conveyor is included. For customers looking for a plug-and-play option the conveyor can be supplied complete with a control box designed for 110 VAC input. This control box features an on-off switch as well as a knob for adjusting the speed.
The GUF-P 2000 CA is available in widths from 300 to 600 mm and lengths up to 10,000 mm. This conveyor has a total load capacity up to 77 lbs. At certain loads this conveyor is capable of speeds up to 250 fpm.
Accessories
Because the GUF-P 2000 CA is part of the mk conveyor family, it is compatible with all of the various accessories from mk including fixed and adjustable side rails and a wide variety of stand options. These stand options included fixed height and telescoping stands with leveling pads or casters. mk offers a full range of conveyor accessories including lane dividers, infeed chutes, hoppers and covers. All of which are compatible with the GUF-P 2000 internal drive drum motor flat belt conveyor.
Versatility
The GUF-P 2000 CA flat belt conveyor is versatile and can be used in a variety of industries and applications. It is ideally suited to fit under presses and to remove stamped parts and/or scrap. The low profile frame is uniquely suited for the plastics and electronics industries.
For more information on the GUF-P 2000 CA internal drive drum motor conveyor fill out the form below and we'll be in touch shortly.
---