mk's CleanMove Conveyors Are Perfect for Commercial Bakeries
Posted on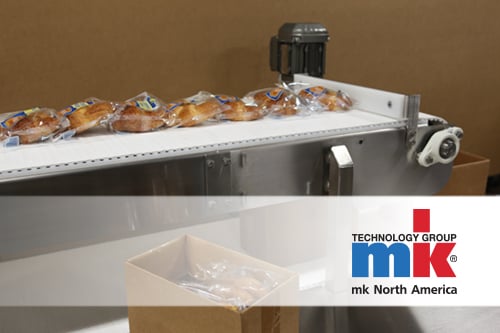 Since ancient times, bread has been known as the "staff of life." While bread's importance hasn't waned since those words were first written, the art of baking has changed significantly.
Today, according to the American Bakers Association, the commercial baking industry in the United States is responsible for well over $300 billion in total annual economic output and 1.7 million jobs — about 2.1% of the GDP. While professional bakers have existed since as far back as the 5th century BC in ancient Greece, the scale of sophistication of this modern industry is a far cry from relatively simple, handmade loaves of antiquity.
Indeed, the modern food supply includes baked goods like sandwich rolls, cakes, pies, pastries, crackers, snack bars, and much more. More importantly, rapidly growing population means that highly-efficient industrial methods are required to meet demand.
Part of running that kind of operation in any industry means having the best conveyors possible to keep things moving — and the baking industry is no exception. An industry overview published by the data insights company Hoovers notes that, "profitability for individual [commercial bakery] companies is determined by efficiency of operations."
Conveying Needs of the Commercial Baking Industry
Modern commercial bakeries are complex, highly-automated facilities which incorporate a variety of different, discrete processes. Proofing, pan handling, basket handling, baking, cooling, and packaging are all important steps of the baking process, each with its own handling and conveying needs.
What's more, ever-evolving modern trends in the retail bakery market demand conveyors and equipment with the versatility to accommodate regular product and line changes.
The Benefits of mk's CleanMove Systems as Bakery Conveyors
Designed with the food industry in mind, mk North America's CleanMove line of stainless steel conveyors are well-suited to meet the needs of the commercial baking and confectionary industries.
Multiple CleanMove systems are certified by the Baking Industry Sanitation Standards Committee (BISSC), and mk North America offers numerous sanitary and washdown conveyors that meet BISSC, FDA, and other standards for sanitation and cleanability.
Features of CleanMove conveyors ideal for the commercial baking industries include the following:
304 stainless steel construction, suitable for high-pressure and (in some models) caustic washdown
Numerous FDA-approved belting options, including standard flat belts with the CFB-200, cleated belting with the CCB-200, and wire mesh belting suitable for tunnel ovens and other high-temperature environments
These and other features make custom configurations possible to meet a variety of bakery facility needs, from bulk ingredient transfer to oven infeed, pan handling, packaging, and more.
Learn More and Get a Quote for Bakery Conveyors from mk North America
If you're in the commercial baking or confectionary industry and want to learn more about mk's CleanMove conveyors for your facility, get in touch by calling (860) 769-5500 or by using this convenient online form.
---