Conveyors for the Solar Industry: Solar Panel Manufacturing Conveyors from mk
Posted on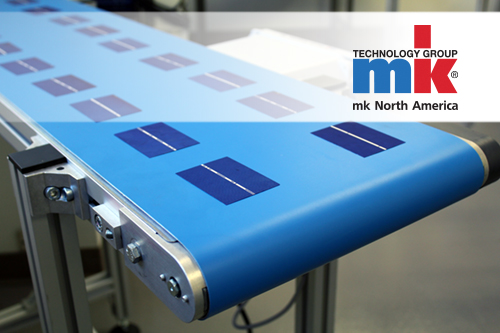 The solar industry in the United States is growing exponentially, with high energy costs, environmental concerns, and government funding driving demand higher than ever before. But with increased demand comes the need for expanded supply.
Solar panel and solar cell manufacturers must substantially increase production to meet demand in coming years, which means improving efficiency and refining the process from drawing board to installation.
There's more that goes into this than could be covered in a single blog post, but one essential element is automating and streamlining the production process using efficient conveyor systems.
The Material Handling Demands of the Solar Industry
Photovoltaic solar cells and flat panel displays are two important components of solar panels, and their manufacture can be a delicate and painstaking process.
They're fragile enough to need smooth transfer without harmful vibration (which could result in micro-cracks and other damage), and a light touch when it comes to stopping, rotation, and other motions. They can also be sensitive enough to require cleanroom conditions.
As for the conveyors themselves, extreme heat is sometimes required in certain stages of solar panel manufacturing. This means thermal resistance is a must. Precision is also of crucial importance –when working with robots and specially-trained workers to create a modern solar panel, something as narrow as a millimeter can make all the difference in the world.
Conveyor Solutions for the Solar Industry from mk North America
With so many requirements and caveats, it can be hard for solar manufacturers to find a single conveyor manufacturer that meets all their needs. Luckily, mk North America offers a wide variety of conveyor systems to meet every requirement.
For cleanroom or high-temperature environments, mk's CleanMove line of conveyors is ideal. Made with stainless steel frames, CleanMove belt conveyorsare capable of withstanding intense washdown conditions necessary for cleanroom applications. CleanMove conveyors are also resilient against the high heat that's necessary to weld individual solar cells together.
For applications that require precise transfer, positioning, orientation, and control of individual solar cells and other manufactured components, mk has a number of conveyor solutions: The VersaMove line of pallet conveyor systems are designed to improve manufacturing productivity and product quality in manual or automated operations.
For more specific applications, magnetic conveyors, vacuum conveyors, and other orienting and positioning options are available in mk's "Engineered Solutions" line of conveyor systems.
Above all, mk takes pride in offering custom and modular solutions to allow for seamless integration and minimized downtime.
To learn more about mk North America's conveyor solutions for the solar industry, get in touch by calling (860) 769-5500 or filling out the form below.
---