Curve Conveyors for Nearly Every Industry
Posted on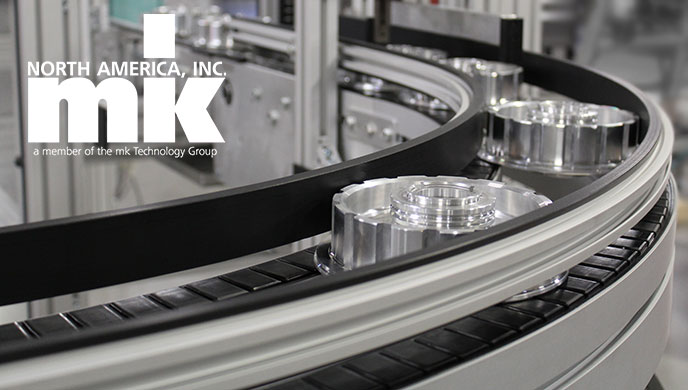 mk North America offers a wide range of curve conveyors for nearly every application in almost every industry. These conveyors range from simple stand-alone curves to long expansive systems that change elevation. In this blog post we will explore what makes the various types of curve conveyors unique and how to best select a curve conveyor for your application.
Compact Corner Curved Belt Conveyor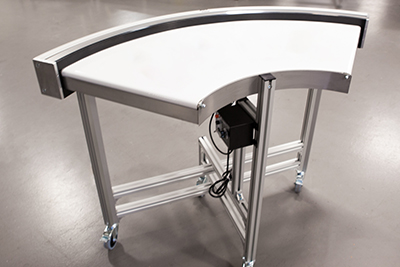 Just as the name sounds this type of conveyor, KGF-P 2040, is the ideal conveyor when space is limited, and product needs to travel around a corner. This conveyor features a small diameter transfer on each end, allowing it to be used in conjunction with new or existing conveyors with more traditional end roller diameters. Unlike most other curve conveyors, this conveyor does not require a straight section at the infeed or the outfeed, it is perfectly a curve. This conveyor is ideal in nearly any application, aside from direct food contact, that requires a "drop-in" corner conveyor.
Conveyor features include:
45°, 60°, 90°, and 180° curves
Widths from 300 to 600 mm
Loads up to 75 lbs.
Speeds up to 75 fpm
Belt options including food grade and anti-static
Roller Curve Conveyors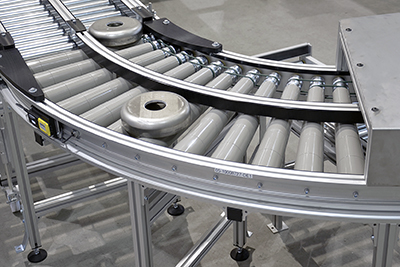 Roller curve conveyors are excellent at conveying large or bulky items around corners. Available in two different styles – driven roller to powered roller – these conveyors are capable of carrying loads up to 330 lbs. per 90° section. Both conveyor types feature conical roller spaced at 5° increments around the curve. This allows the product to travel at the same speed at the inner and outer radius of the curve, while fully supporting the product as it travels. mk North America offers two different models of roller curve conveyors, RBM-P 2255 (powered roller) and RBT-P 2255 (driven roller).
Conveyor features include:
90° and 180° curves
Widths from 420 to 720 mm
Inner radius of 800 mm
Loads up to 330 lbs.
Speeds up to 100 fpm
Plastic Modular Curve Belt Conveyors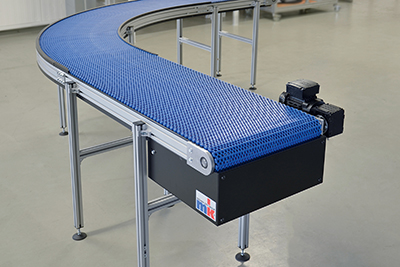 Plastic modular curve belt conveyors are ideal for wider products that require support in all directions. These conveyors are unique in the variety of belting styles and materials available, making them suitable for some extreme duty conveying. The radius of the curve is dependent on the type of belt and width of belt used. These conveyors can accommodate layouts with multiple curves and straight sections with one drive. Available from mk North America in both aluminum frame and stainless steel frames; this conveyor is ideal for use in industries ranging from commercial bakeries, to ecommerce, and even metal working and automotive. The KMF-P 2040 is the aluminum frame version of this conveyor from mk North America. mk offers several stainless steel versions, including the CRM-400 which is BISSC approved and ideal for baked goods. It should be noted that these conveyors do require straight sections before and after the curve sections.
Conveyor features include:
45° and 90°
Widths up to 1,005 mm
Loads up to 500 lbs.
Speeds up to 100 fpm
Multiple curves per layout
Flexible Flat Top Chain Conveyors
When you need a conveyor that can not only go around corners but can also change elevations and conveyor over long distances, then you need a flexible flap top chain conveyor. Flexible flat top chain conveyors are the most versatile and adaptable for use across many industries and applications. Sometimes referred to as table top chain conveyors, these conveyors can be found in packaging and canning lines, plastics manufacturing, cosmetics, medical, automotive, baking and food processing industries. In addition to all the other features of this conveyor platform they are also excellent at accumulating and storing products. For non-direct food contact mk North America offers their VersaFlex line. VersaFlex comes in a variety of conveyor widths adding to its flexibility. For food handling applications mk offers two different conveyor option, such as the CRF-400, depending on the cleanability needed. Like plastic modular belt conveyors, these conveyors also require straight sections before and after curves.
Conveyor features include:
45°, 60°, 90°, and 180° curves
Inner radius of curve as small as 150 mm
Widths from 63 to 305 mm
Lengths up to 40 m
Loads up to 800 lbs.
Speeds up to 165 fpm
Chain available with a variety of different top surfaces and cleats
Working with mk North America
With a wide range of curved conveyor products offered mk North America is sure to have the conveyor for your application. And there is no pressure to try and determine which conveyor is best for your unique process on your own, as our helpful sales engineers are ready to listen to your needs and work with you in selecting the best conveyor for your application. Because at mk we believe in offering not only a better product, but also a better solution.
---