Ergonomic Industrial Workstations from mk North America
Posted on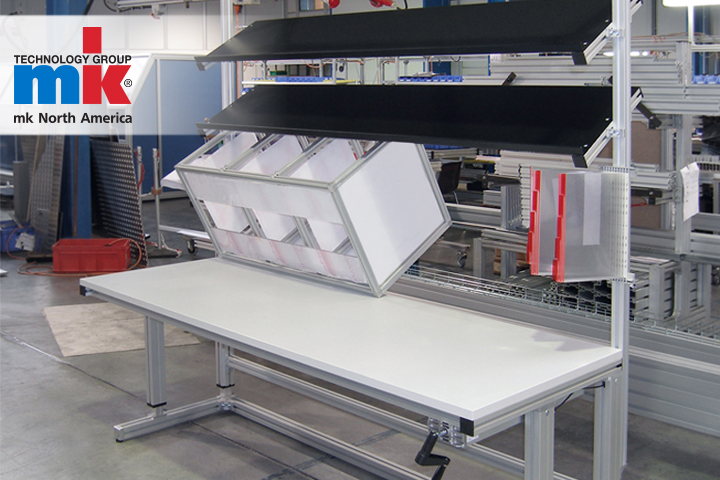 With the design of any industrial equipment, there are numerous considerations that need to be taken into account. Usually chief among these are material cost, equipment performance, and durability. However with such a narrow focus on the physical features of the equipment itself, human factors such as ease of use and ergonomics can be too often overlooked.
The International Ergonomics Association has defined ergonomics as, "the scientific discipline concerned with the understanding of interactions among humans and other elements of a system... in order to optimize human well-being and overall system performance." In terms of industrial design, this means designing equipment and workstations with their users in mind, in order to prevent stress, strains, and injuries.
Improper design and a disregard for ergonomics can result in lost productivity, unnecessary costs, and unfortunate injuries in the workplace. One of the most crucial places for proper ergonomic design in any workplace is the workstation, whether an industrial workbench or an office worker's computer desk. In any case, custom workstations made with mk North America aluminum extrusions are a perfect solutions to meet any workplace's ergonomic needs.
Ergonomic Considerations for Industrial Workstations
When designing workstations, the following ergonomic considerations should be made.
Height: The height of any workstation should be tailored to limit awkward reaching and bending, and to allow workers to perform tasks in proper ergonomic positions. If work is performed in a seated position, the height of the chair or stool should also be considered.
Tilt: The working surface should be set at an angle ergonomically appropriate to the required task.
Adjustability: If more than one worker is to use a given workstation, its height and positioning should be adjustable allow for proper ergonomics for each worker. This can be done with an electric motor or manual hand crank. Adjusting the station or working surface should be fast and easy.
Movability: If a workstation will need to be moved frequently, it should be built on casters for ease of mobility.
Size: The size of the working surface should be large enough to comfortably accommodate required tasks, but not so large as to risk unnecessary reaching or straining (or waste valuable floor space).
Ergonomic Workstations from mk North America
Made of mk's durable, versatile aluminum extrusions, mk North America workstations are fully customizable to accommodate any and all ergonomic concerns. Whether you need assembly workstations, packaging workstations, processing workstations, computer consoles, or other stations, mk's aluminum extrusions and accessories can handle it.
The t-slot design of mk aluminum extrusions allow for a great degree of adaptability during the initial design phase and throughout a workstation's lifespan. Custom design options include surface options, mobility options, height adjustment, storage, shelving, aesthetic customization, surface options like laminates and resins, and more. Available accessories include keyboard pullouts, file drawers, hydraulic lifts, and cable management tools.
If you're interested in learning more about custom ergonomic workstations or other factory equipment like Kanban racks, storage carts, and material shuttles, call (860) 769-5500 or get in touch using the form below.
---