Heavy Duty Conveyor Solutions from mk North America
Posted on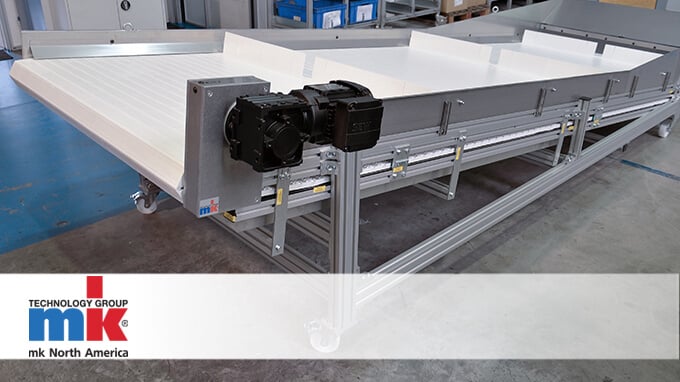 In industrial applications involving heavy loads and rugged environments, special heavy duty equipment is often required.
If you're looking for heavy duty conveyor systems to accommodate material handling and other processes in a particularly demanding industrial setting, mk North America may have the solutions you need.
Keep reading to learn more.
Applications
Heavy duty conveyor systems from mk North America are designed to provide reliable material handling solutions in a variety of industrial applications.
Appliance lines and large appliance manufacturing
Automotive manufacturing and sub-assemblies
Defense
Furniture assembly and manufacturing
Engine lines and manufacturing
Pressure testing
And more
Wherever especially wide or heavy loads are required, mk North America can provide a standard or custom conveyor solution to meet your needs.
Standard Solutions
Among mk North America's standard conveyor solutions, the flagship heavy duty system is the VersaMove Ultra.
A part of mk's VersaMove line of pallet conveyor systems, the VersaMove Ultra's SRF-P 2012 accumulating roller chain conveyor can move workpiece pallets of up to 1,200 millimeters square laden with loads as heavy as 700 pounds each.
For a heavy duty belt conveyor system, the GUF-P 2041 is customizable with a variety of belting options and frame widths of up to 1,200 mm and maximum leads of up to 500 pounds. mk's MBF-P 2040 is also useful in heavy duty applications, thanks to modular plastic belting that resists wear and is capable of carrying loads of up to 1,000 pounds.
Custom Solutions
If the SRF-P 2012, GUF-P 2041, and MBF-P 2040 systems don't meet your particular requirements, mk North America may still be able to help.
Thanks to decades of expertise and proprietary lines of durable, versatile t-slot aluminum extrusions, mk can provide custom conveyors for a variety of applications and industries, including those requiring heavy duty solutions.
In addition to heavy duty applications, mk North America can also help with specialty environments, cleanroom applications, and more.
Contact mk North America and Get a Quote
To learn more about mk North America's heavy duty conveyor solutions or other custom products, get in touch today by using this easy online form.
---