mk's Belt Conveyor Types
Posted on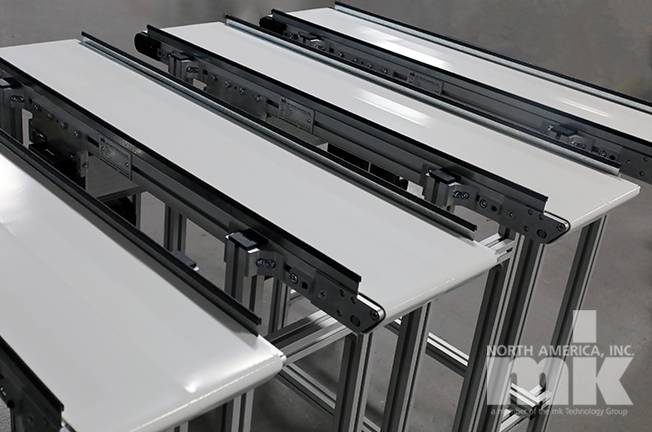 mk North America offers six different types of belt conveyors; some are designed for very specific uses and others can be used in a wide variety of configurations. But regardless of whether or not a conveyor has a specific use or not, all mk belt conveyors are highly customizable – making them the perfect solution for many industries and applications. In this article we'll compare and contrast the various mk belt conveyors – and we've included a chart to help make selection easier.
Belt Conveyor Types
Belt Conveyors – Straight
If you are looking to move product in a straight line from point A to point B, then look no further than our GUF-P series belt conveyors. In this class of conveyor, we feature three different platforms – ensuring we have the right size conveyor for your application. These belt conveyors can move product in a steady fashion, or they can accumulate product. Additionally, these conveyors can be indexed or stepped – although they are not designed for precise indexing (timing belt conveyors are the gold standard for that).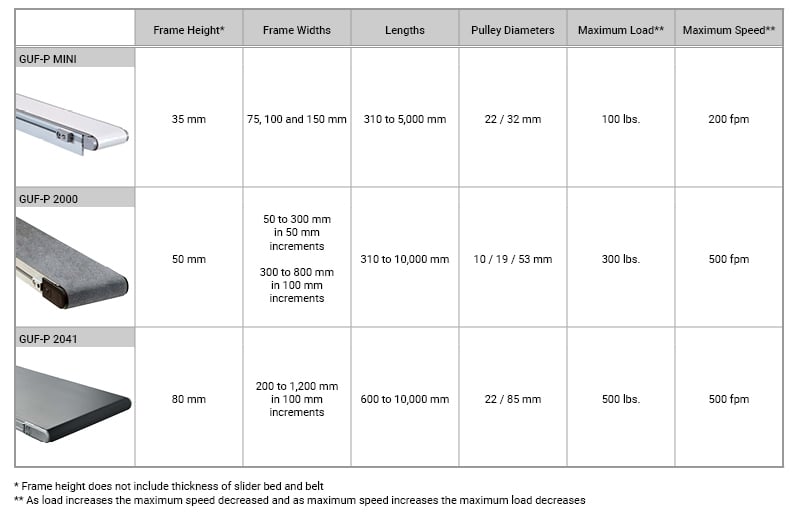 All these belt conveyors can have cleats or flights, to some extent. Most commonly they are supplied as a single belt driven off one motor, but they can be engineered to have multiple belts run off a single motor. They can also be used in applications where a height change is required – conveyors running at an incline (or decline). This is different however, from Z-frame conveyors, which we'll look at next.
Belt Conveyors – Incline or Z-Frame
As mentioned above, any of the GUF-P series conveyors can run at an incline. But what about applications that require a horizontal run of conveyor followed by an incline or decline and then another horizontal? For that type of application mk offers the KFG-P 2000 belt conveyor. Not only can the KFG-P 2000 be configured in the classic Z-frame or gooseneck; it can also be configured as the following:
Incline or decline to horizontal
Horizontal to incline or decline
Incline to horizontal to decline

Typically, these conveyors feature cleated belts, however on units with a more subtle incline, a friction top belt may be a suitable choice. This conveyor cannot be used on applications that require accumulation. Unlike the GUF-P series of conveyors, the KGF-P 2000 requires one motor per conveyor/belt.
Belt Conveyors – Dual Lane (And Multi Lane)
A highly specific belt conveyor that mk offers is the DGF-P 2001. This dual-lane-narrow-belt conveyor is ideal for handling small pallets or circuit boards and similar workpiece carriers often found in the electronics industry. This conveyor boosts a fixed install length and integrated side rails. This unit does allow for product to be accumulated or travel steady. Some of the features of the DGF-P 2001 include:
A frame width 11 mm wider than the pallet
Lengths up to 2,000 mm
Loads up to 50 lbs.
And speeds up to 75 fpm.
If you are looking for a more versatile, dual or multi-lane conveyor, then the GUF-P series is the right mk belt conveyor platform for you. With the GUF-P series you can mix and match belt widths on a single motor, and belt spacing is highly flexible. With multi-belt conveyor set-ups, the space between the lanes can be used to mount transfer conveyor or other devices; however, if one needs to maintain the leading-edge of their product, then our curve belt conveyor may be just the solution.
Belt Conveyor – Curve
mk's line of belt conveyors includes a tight-radius curve conveyor. This conveyor, the KGF-P 2040, is a drop-in corner unit with no need for straight running lead-in or lead-out sections. The standard angle KGF-P 2040 is 90° or 180°. The KGF-P 2040 features a tight 19 mm nose bar on each end – adding to this conveyor's ability to be dropped into place. Some of features of this conveyor include:
Widths from 300 to 600 mm
An inner radius as tight as 300 mm
Loads up to 75 lbs.
Speeds up to 75 fpm
And reversible operation.
Belt Conveyors – mk Standard Features
All mk belt conveyors are constructed out of mk's t-slot aluminum extrusion which means they are compatible with mk's t-slot aluminum extrusion line. All units feature a wide variety of stands and side rails. As with all mk conveyors, these units can be supplied with a DC variable speed motor and controller package, or they can have an inverter duty 3 Ph gearmotor (inverter included if you wish).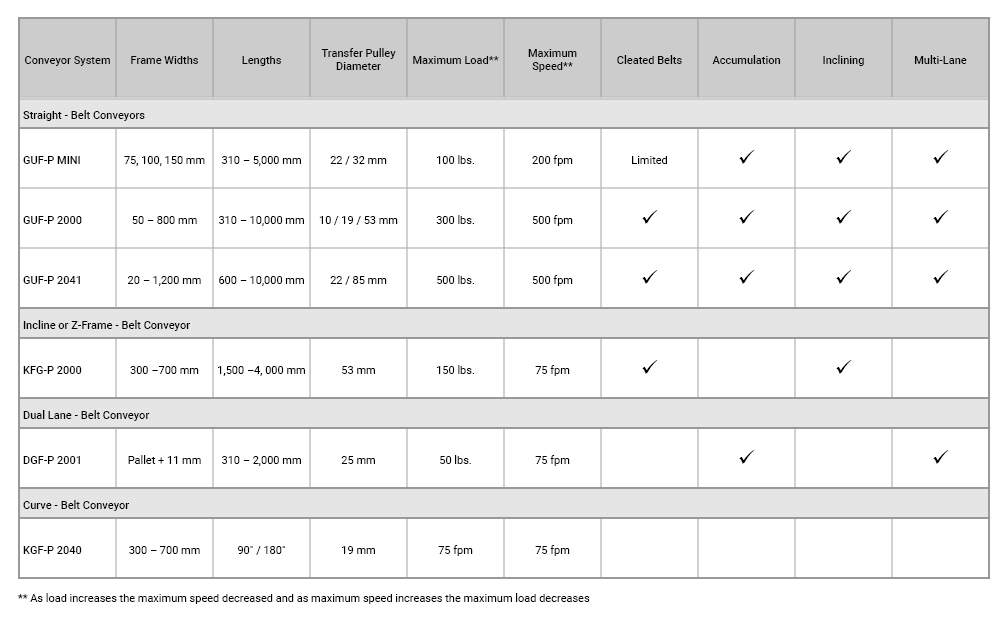 If none of these conveyors quite fits the bill for what you are looking for, mk also offers a whole compliment of other conveyor types – including plastic modular belt conveyors, roller conveyors, timing belt conveyors and chain conveyors.
When you work with mk North America, you are working with a company that strives to provide you with not only a better product, but also a better solution. This means we will help you select the mk conveyor that is right for your unique application. Contact mk today to get started on your next conveyor project.
---