mk North America Offers a Variety of Z-Shaped Belt Conveyors
Posted on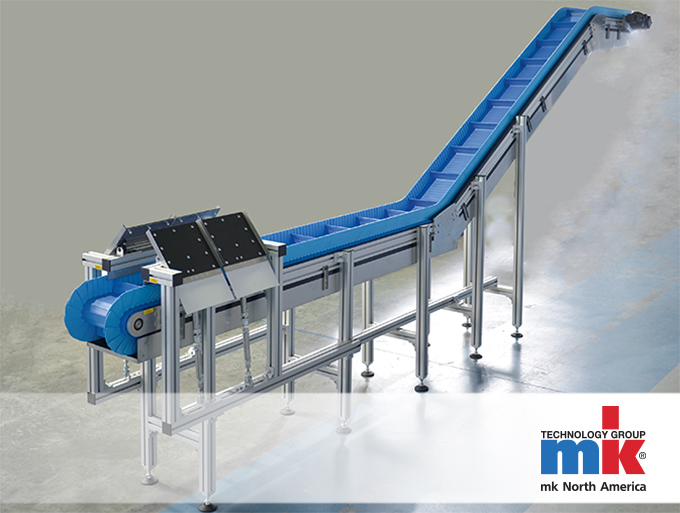 Z-shaped conveyors are systems that utilize a horizontal-incline-horizontal configuration. Sometimes called "gooseneck conveyors," these systems are useful in a variety of applications:
Ergonomic support for conveyor line workers: inclines can reduce the need for bending or reaching)
Hoppers and bowl feeders: custom declines can be used to feed product into hoppers or feed bowl feeder intakes
Elevation changes
Injection molding
Packaging
And more
mk North America offers a variety of z-shaped belt conveyors in standard and custom configurations to meet almost any need. Keep reading to learn more.
Aluminum Frame Z-Shape Conveyors from mk North America
Many of mk's most versatile systems are built using their extruded aluminum framing systems.
Standard options include the KFG-P 2000, an aluminum-framed gooseneck conveyor that can be configured with bends from 15° to 60° and with cleated belting to improve product support at steep inclines.
The KFM-P 2040, meanwhile, features modular plastic belting with extra-tall cleats or flights, allowing for abrasive, heavier, and larger-than-normal products to be carried up a steep incline.
Steel Frame Options
For applications involving washdown or other harsh conditions such as food or pharmaceuticals processing, mk North America's CleanMove line of stainless steel conveyor systems includes multiple z-shape options.
The CIM-600 is a z-framed sanitary stainless steel conveyor ideal for bringing products up or down inclines or declines of up to 60°. A part of the CleanMove Ultra line, it is also resilient against the harshest of chemical cleansers and washdown conditions and can be fitted with cleated belts specially designed to aid in releasing sticky goods.
In applications where packaged foods need to be conveyed with a z-shaped system, the CIC-200, a more economical gooseneck conveyor in the CleanMove standard line, is an excellent option.
Learn More and Get a Quote from mk North America
These are just a fee of the z-shaped conveyor options available from mk. To learn more about how mk North America can help meet your conveyor needs, get in touch today by calling (860) 769-5500 or using this easy online form.
---