Cooling Conveyors & Specialty Conveyors for Commercial Bakeries
Posted on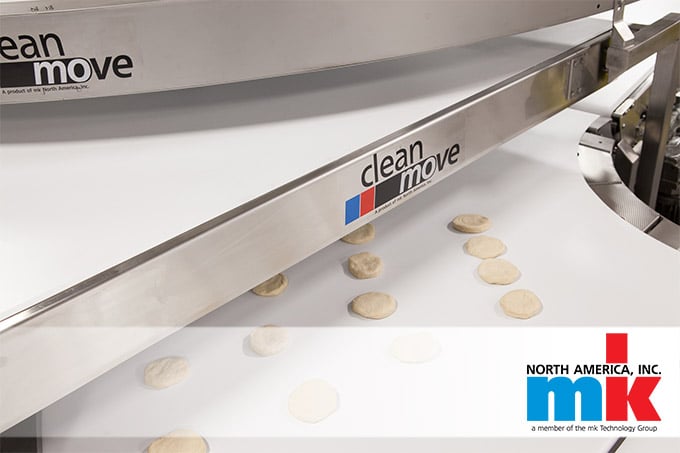 Conveyor systems from mk North America are used in a variety of industries, but almost none are served as completely by mk products as commercial bakeries and other large-scale food and beverage processors.
While mk's line of stainless steel CleanMove conveyors are versatile systems that can work with everything from raw meat to prepared foods, mk can also provide highly customized or standard systems designed for specific tasks unique to food production.
Cooling conveyors are one such class of system in which mk specializes, although they are far from the only specialty food production conveyors offered. Get in touch today or keep reading to learn more.
Cooling Conveyors for Commercial Baking and Food Processing
When baked products or other pre-cooked prepared foods emerge from the oven, broiler, toaster, or fryer, they're often too hot to be packaged immediately. Cooling conveyors from mk North America can offer the time needed for cooling while transferring food products to the staging area for final packaging and shipping.
Benefits of mk cooling conveyors for food processing and baking applications include:
BISSC certification: mk North America offers a number of conveyor systems that are certified in compliance with the Baking Industry Sanitation Standards Committee (BISSC)'s sanitation standards for equipment used in industrial baking.
Washdown capable: For applications with no need for BISSC certification, mk conveyors are still at the top of their class when it comes to sanitation. CleanMove conveyors are designed for rigorous sanitation standards, and can be configured to withstand the high temperatures demanded of cooling conveyors.
Other Specialty Conveyors for Commercial Bakeries and Food Processing
In addition to cooling conveyors, mk North America also offers a variety of other specialty conveyors ideal for commercial baking and food processing applications.
Glazing Conveyors: Used in the application of glaze or frosting on baked goods, these conveyors can be equipped with a custom accessory that cleans and reclaims excess glaze to reduce waste.
Proofing Conveyors: These long, slow-moving conveyors are made with specialty belting that allows for highly consistent temperature easy release of the dough after the proofing process.
De-Panning Conveyors: These conveyor systems are equipped with accessories that are designed to remove the baked good from their pans or baking sheets.
Freezer Conveyors: Freezer conveyors can operate in extreme low temperature environments such as long freezing tunnels often used in commercial food production.
And More: Whatever your business demands, mk North America has a conveyor for that.
Learn More and Get a Quote
To learn more about how cooling conveyors and other specialty system from mk North America can be used in your own baking or food production applications, contact a member of the mk team today; call (860) 769-5500 or fill out the form below.
---