Industrial Conveyors: Pallet, Roller, and Belt Conveyor Systems from mk
Posted on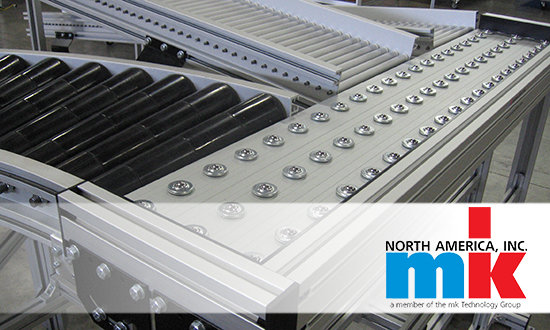 When it comes to industrial conveyors, there's really no one-size-fits-all solution. That's why mk North America provides a wide selection of standard and engineered industrial conveyor solutions for industries like machine building, manufacturing, metal working, pharmaceuticals, robotics, food and beverage processing, and more.
Made with quality materials like t-slot aluminum extrusions or washdown-ready stainless steel, and featuring easy-to-mount accessories like side rails, stands, and more, mk conveyor systems are fully customizable and modular to allow for maximum efficiency and flexibility.
Find more information about a selection of mk's industrial conveyors below, or get in touch to learn more from a member of the team.
VersaMove Pallet Conveyor Systems
One of mk North America's most popular lines of industrial conveyor systems, the VersaMove is a non-synchronous workpiece pallet-based conveyor system that improves productivity, production quality, and process flexibility.
Consisting of three unique platforms, the VersaMove Standard, VersaMove Plus, and VersaMove Ultra, VersaMove conveyors are ideal for applications as diverse as accumulation and timing, manufacturing assembly, and many more.
Modular Plastic Belt Conveyors
In addition to pallet conveyor systems from the VersaMove line, mk North America also offers more conventional belt conveyor systems—especially relevant for heavy-duty industrial applications are mk's modular plastic belt conveyors.
As opposed to flat belt conveyors, these systems use belting made from interlocking plastic segments. This makes them especially useful with high-load applications, those with sharp edges or otherwise difficult materials, and those with strict sanitation requirements.
Standard configurations are also available to accommodate inclined conveying, curved belts for conveying around corners, and more.
Roller Conveyors
For pallet handling lines and material handling applications involving products with firm, flat bottoms like drums, cases, packaged materials, and other boxed cargo, mk has a variety of roller conveyor systems among its standard catalog.
Gravity roller conveyors can be utilized alongside custom ball transfer tables for easy, streamlined product transfer. Driven and motor-powered roller conveyors meanwhile allow for precise segmentation, stopping, storage, and zoning.
Contact mk North America to Learn More
These are just some of mk's standard conveyor solutions. To learn about the others, as well as custom options especially engineered for your specific application, feel free to browse our site or get in touch using this convenient online form.
---