What is a Conveyor System?
Posted on
In this post we will look at the fundamentals of what a conveyor is and its basic components. We'll also discuss what a conveyor system is, the various types of conveyors, and what universal benefits conveyors offer. Lastly, we'll take a deep dive into how to choose the best conveyor solution. This is a more complete and in-depth review than an earlier post from 2017.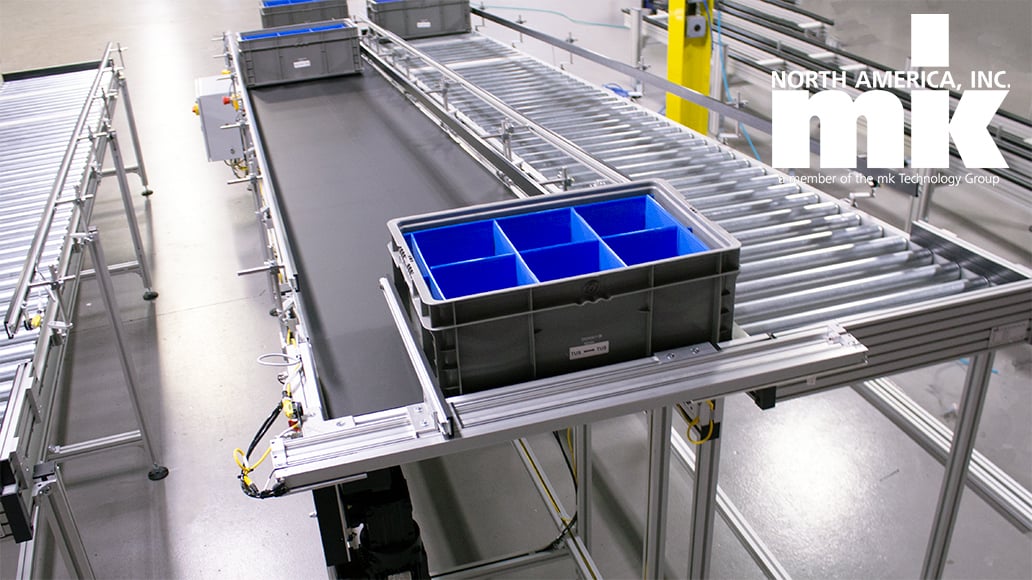 What is a Conveyor?
A conveyor is a mechanical piece of material handling equipment used to transport materials between various points. The American Society of Mechanical Engineers defines a conveyor as a "horizontal, inclined, or vertical device for moving or transporting bulk materials, packages, objects, or passengers in a path predetermined by the design of the device." What is key in this definition, and what sets conveyors apart from other types of material handling equipment, is the fact that they move product on a path "predetermined by the design of the device." This is also the one feature that all conveyor types possess; regardless of application, industry or sector. Albeit many types of conveyors, especially ones in sorting systems, can divert product in several directions - all of these directions are predetermined pathways.
Conveyors are used in the industrial, commercial, retail and farming and mining sectors. Additionally, conveyors are making inroads in the hospitality and construction sectors.
The Basic Components of Conveyors
The vast majority of conveyors are made up of three basic elements – a frame or belt support, a drive, and an idler(s).
The most common type of conveyor, in its most basic form, is an end drive belt conveyor; such as one sees in the grocery store check-out. This consists of a frame with a driven pulley or drum on one end, and an idler pulley or drum on the other end; with an endless belt looped around both pulleys and frame. In most applications, the driven pulley is rotated from energy delivered from an external, electrically powered, motor.
Of course, there are exceptions to this simplistic definition of conveyor design.
Conveyors can move product in a straight line, horizontally, or vertically, or they can be equipped with corners or radius pieces for moving product in two or three dimensions.
| | | |
| --- | --- | --- |
| A curve belt conveyor. | An incline to horizontal conveyor. | An alpine conveyor. |
What Is a Conveyor System?
A conveyor system is a group of conveyors that work together to complete a common task. This can be conveyors operating in parallel (completing the same task – not necessarily arranged side by side) or in sequence (either feeding one to another or working in harmony with other pieces of equipment).

Conveyor systems can be as simple or as complex as the process requires. They can run over land moving bulk materials, such as rock or gravel, for long distances. Or they can be in state-of-the-art factory settings interacting with robots, linear motion components, vision and camera systems, cobots and humans.
Automation controls, or industrial automation, are responsible for ensuring that all the various pieces of equipment, including the conveyors, are "talking" and "listening" to one another. Automation controls are the "brains" that make the conveyor system, and all the other pieces of equipment on the line, work together. They can also provide for additional operator safety measures.
Types of Conveyors and Conveyor Systems
Conveyors can be broken down into two major categories – gravity or powered conveyors.
Gravity conveyors rely on the force of gravity, typically through elevation changes, to move the product along the length of the conveyor. Gravity roller, wheel and chute are the three basic types of these conveyors. These conveyors do not include a drive element, as discussed above.
Powered conveyors come in nearly an endless variety and are typically named after the conveyor's most prominent or distinctive feature. There are many types of conveyors and they include, but are not limited to:
Pneumatic conveyors
Screw conveyor
Trough conveyors
Vibrating conveyors
Zone conveyors
When it comes to conveyor systems, multiple types of conveyors can be used to create a single system – this allows for the most appropriate conveyor to be used in each instance. Fitting the conveyor to the task at hand allows for the most reliable product handling, while creating a safer and more economical conveyor line. Additionally, finding areas in which the same type of conveyor can be used, can help cut down on spare part inventory and make maintenance easier. Working with an integrator or a conveyor manufacturer; such as mk North America; that offers a wide variety of conveyor system solutions will help ensure the best possible outcome for your next material handling project.
While each conveyor will have benefits as unique as its design, all conveyors and conveyor systems have universal benefits.
What are the Benefits of Conveyors and Conveyor Systems?
Considering that a conveyor's main function is to move objects from one point to another, the benefits of conveyors are centered on this fact. Conveyors can move products that may otherwise be too heavy or bulky to be moved safely by an individual. Conversely, they can also be designed to handle small, light and delicate parts. Parts that are so fragile handling them by others means may damage them.
Conveyors also move product faster than other available means. We are all familiar with the warehouse conveyors shown in the news or on YouTube; as they rapidly fulfill orders. However, consider that conveyors can also be used to slow things down – they are an excellent means of providing a moving platform for curing or drying or cooling products.
Aside from being able to quickly move product at a high rate of speed, conveyors can also save time by transporting product between various heights; such as between different floors. If a human was to move the product between floors, not only would this provide a safety concern, but it would also take longer to climb steps than to use a conveyor to move product.
When conveyor systems are employed, the benefits of a single conveyor are multiplied over the entire process. This is in addition to the benefits achieved from the use of other.
So, now that you know the types of conveyors and their benefits, how do you go about choosing the correct conveyor system? Read on to learn.
How to Choose the Right Conveyor System?
The conveyor manufacturer or integrator that you work with will help you determine the right conveyors for your next conveyor system. In order to do this, they will gather information about your product, process and facility.
Product
Overall shape and size of product
Temperature of product
Nature of product: smooth, sharp, delicate, consumable, solid, liquid
Quantity of product: bulk or piece handling
Finished or unfinished product
Weight per piece
Total weight on conveyor
Is the product wet or dry?
Are there any edges of the product that cannot be handled?
Process
Is leading edge critical?
Is part orientation important?
Do parts accumulate?
Are parts allowed to touch?
How far does the product need to travel? (Conveyor length)
Are there elevation changes?
What is the cycle time?
Desired speed of conveyor
What types of equipment does the conveyor and product interact with?
Is the conveyor used to cool, cure, print or other in-process application?
How are products loaded and unloaded from the conveyor?
Do operators work alongside the conveyor?
Facility
What type of facility will the conveyor system be installed?
What is ambient temperature?
Are there temperature extremes?
Is it humid or are there wet cleaning processes?
Are there special conditions such as explosive or clean room?
Is it dusty or are there particulates in the air?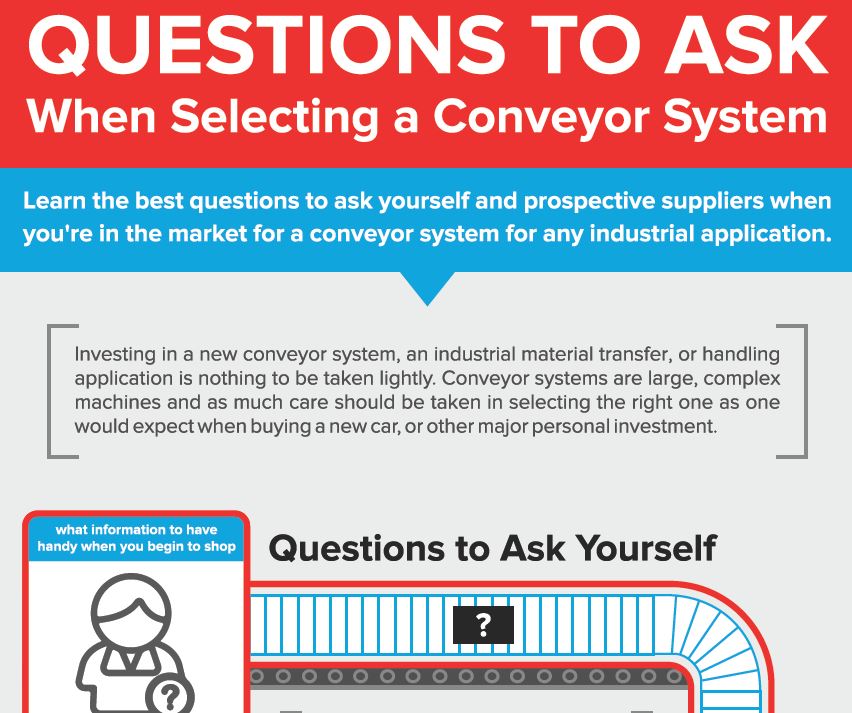 While all these questions may seem overwhelming working with an experienced sales representative and conveyor company will take the pressure off. They will guide you through the process and help ensure that the conveyor or conveyor system designed will be best suited for your particular application.
mk North America also offers an infographic on selecting a conveyor - laying out the questions and decisions to be made in an easy to read, visually appealing format.
If all of the questions or information required to design a conveyor system seems overwhelming; have no worry. When you work with an expert they will make the process easy; breaking down complex design and material handling situations. They will ask all of the relevant questions, and point you to the best possible conveyor solution or solutions for your unique application.
Ready to Get Started on Your Conveyor System Solution?
Are you ready to get started working on your next conveyor system project? Then complete the form below and one of our application engineers will be in touch. We look forward to working with you.
---