mk North America Offers Curved Conveyors in 90 and 180 Degree Configurations
Posted on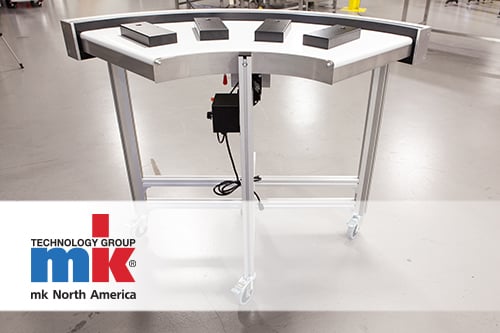 Curve Conveyors for Flexible Layouts
Like many things in life, industrial material handling often has its share of twists and turns.
Modern manufacturing, food and beverage processing, packaging, and other industries which rely on conveyors, frequently require systems capable of accommodating tight curves — sometimes as much as 90 or even 180 degrees — in order to maximize the use of floor space and overall efficiency.
But designing and building these types of curved conveyors is easier said than done. Curved conveyors present a number of engineering challenges, and some manufacturers aren't up to the task.
Fortunately, mk North America isn't one of them. mk North America is a conveyor system manufacturer which offers a number of 90 and 180 degree curved conveyor solutions for a variety of applications, from sorting and packaging to manufacturing, assembly, and machine building.
Curved Belt Conveyors from mk
One of mk North America's most versatile curved conveyors is the KGF-P 2040, an aluminum-frame belt conveyor with compact construction and modular design that's compatible with all other mk conveyor systems and adept at small or tight transfers. Unlike modular plastic belt units, which often require inner radii of two times the belt width, the KGF-P 2040 boast an extremely tight turn radius.
The KGF-P 2040 also features belt widths of up to 600mm, a load capacity of up to 75 pounds, constant or variable speed options of up to 75 feet per minute, and a large selection of conveyor accessories like stands and side rails. Custom options also extend widths, radii, and turn angles.
Curved Modular Plastic Belt Conveyors from mk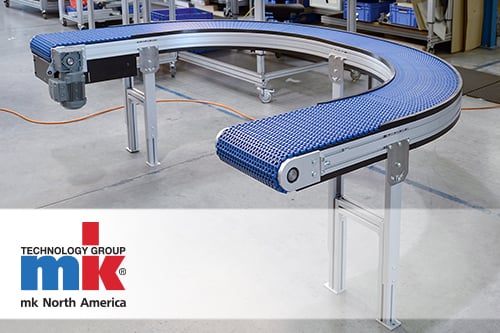 For applications where a modular plastic belt is required, mk offers the KMF-P 2040, with curved configurations available at 45 degrees, 90 degrees, and 180 degrees.
In addition to the ability to carry product around corners due to its curved configuration, the KMF-P 2040 also offers the same benefits of any modular plastic belt conveyor, such as improved belt durability.
Curved Flat Top Chain Conveyors from mk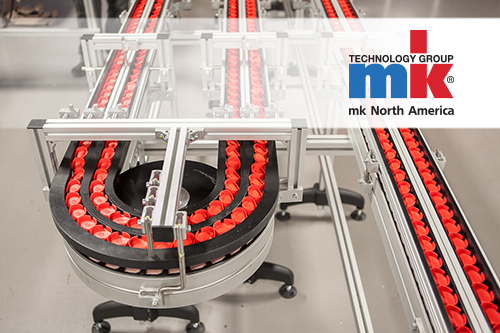 mk North America also offers two flat top chain conveyors with curved configuration options.
VersaFlex is the ideal conveyor for complex layouts which require multiple curves or elevation changes. VersaFlex is available in three different widths, 63, 83 and 103 mm chain widths and features curves ranging from 15° to 180°.
For more robust industrial applications, the SBF-P 2000 table top chain conveyor, with 90 degree and 180 degree standard curve configurations, is available with multi-lane setups and chain widths of up to 12".
Learn More and Get a Quote on Curve Conveyors from mk North America
In addition to the conveyor systems presented above, mk can also create custom conveyor solutions to meet the needs of clients in industries like manufacturing, food and beverage processing, packaging, machining, printing, and more.
To learn more about curved belt conveyor options from mk, get in touch by calling (860) 769-5500 or using this online form.
---