Flexible Chain Conveyors for Parts Handling
VersaFlex flexible table top chain conveyors are ideal for parts handling – they can convey parts between different elevations, around corners. They can index or accumulate product. They can convey product vertically and horizontally. The uses for VersaFlex flexible table top chain conveyors is nearly endless.
Configuration Examples for VersaFlex Conveyors
| | | | | | | |
| --- | --- | --- | --- | --- | --- | --- |
| Horizontal | | Incline | | | | |
| | | | | | | |
| Vertical | | Wedge | | | | |
| | | | | | | |
| Alpine | | Recirculating | | | | |
Benefits for VersaFlex Flexible Chain Conveyors
Low maintenance
Saves floor space
Simple and fast configuration
Modular system of standard components
Conserves energy - long runs with a single motor possible
Side-flexing plastic chain allows for horizontal turns and elevation changes in a single continuous run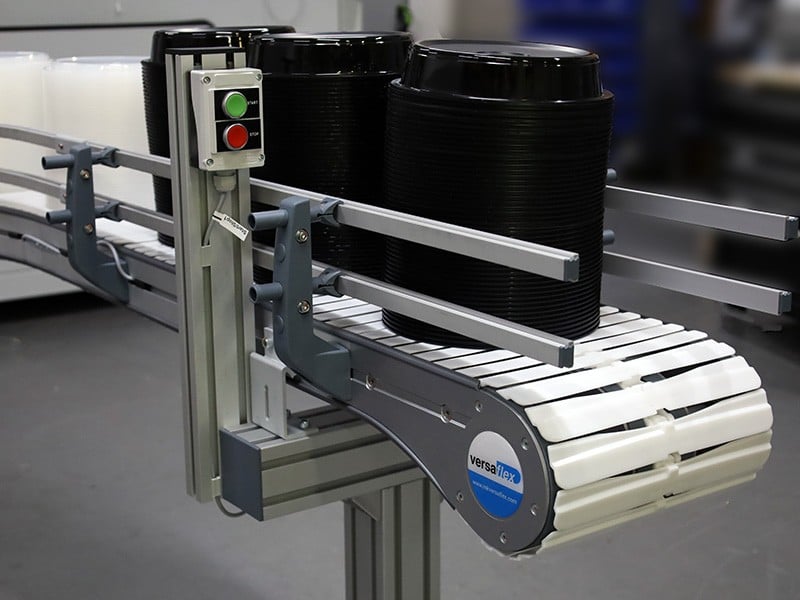 Wide Flat Top Chain Conveyor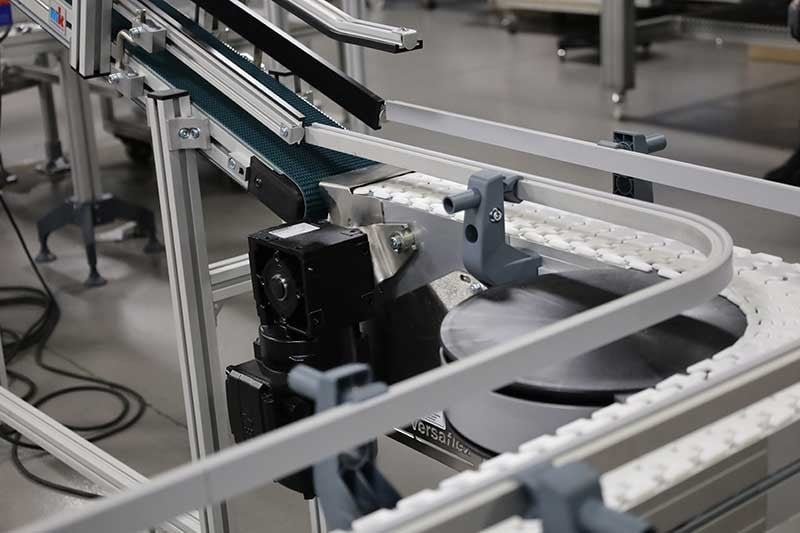 Curve to Incline
In this example product is fed from a VersaFlex conveyor to a GUF-P 2000 conveyor which carries the product up an incline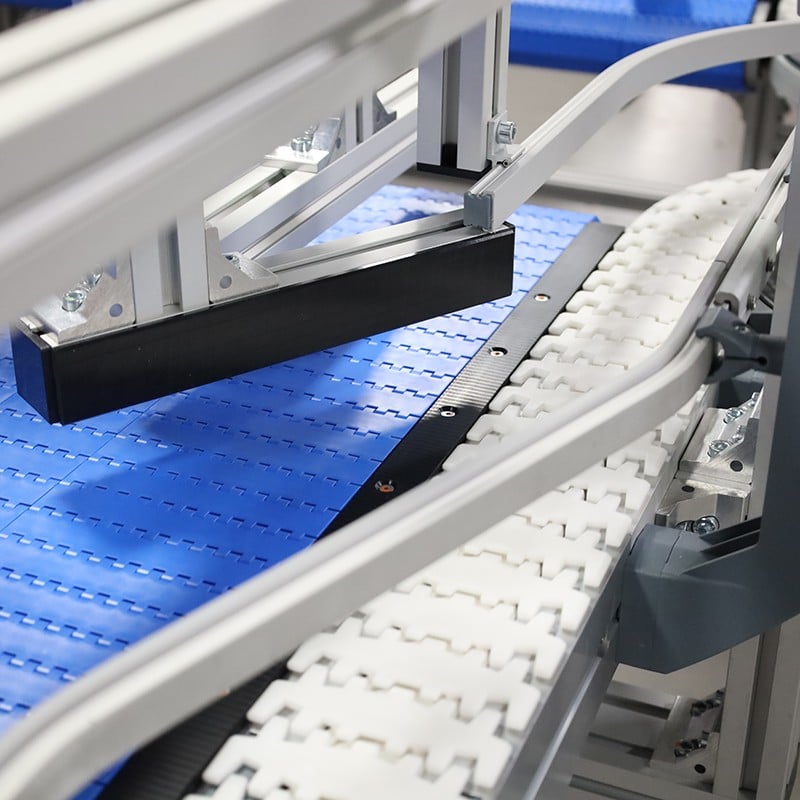 Plastic Modular Belt Conveyor and Flat Top Chain Conveyor
Custom mk rails move product between two different types of conveyors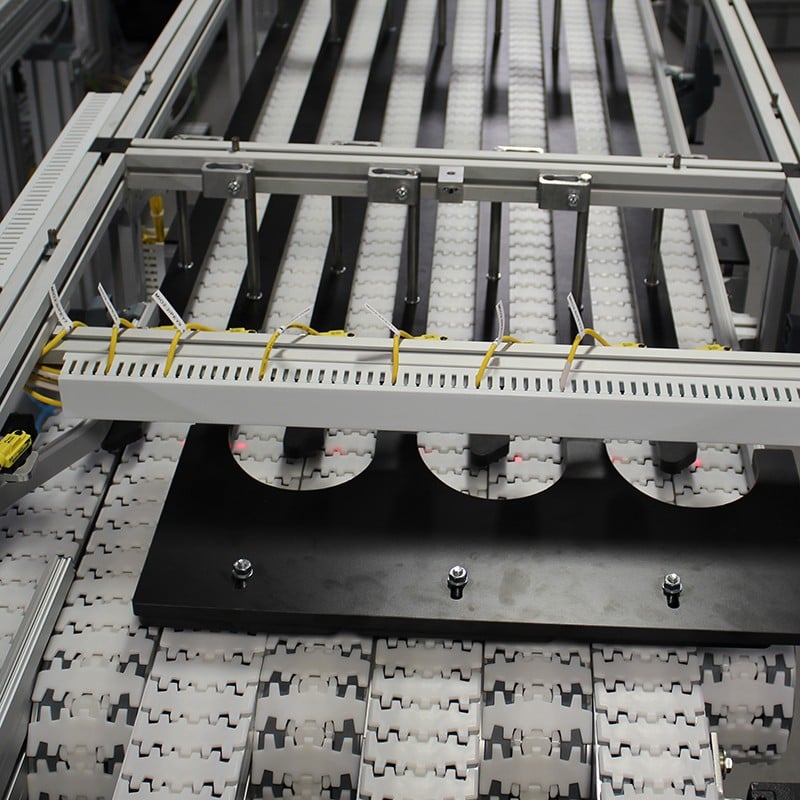 Flexible Conveyor for Storage and Accumulation
In this configuration conveyor lanes flow in the opposite direction from the one next to it, creating a bi-flow storage conveyor.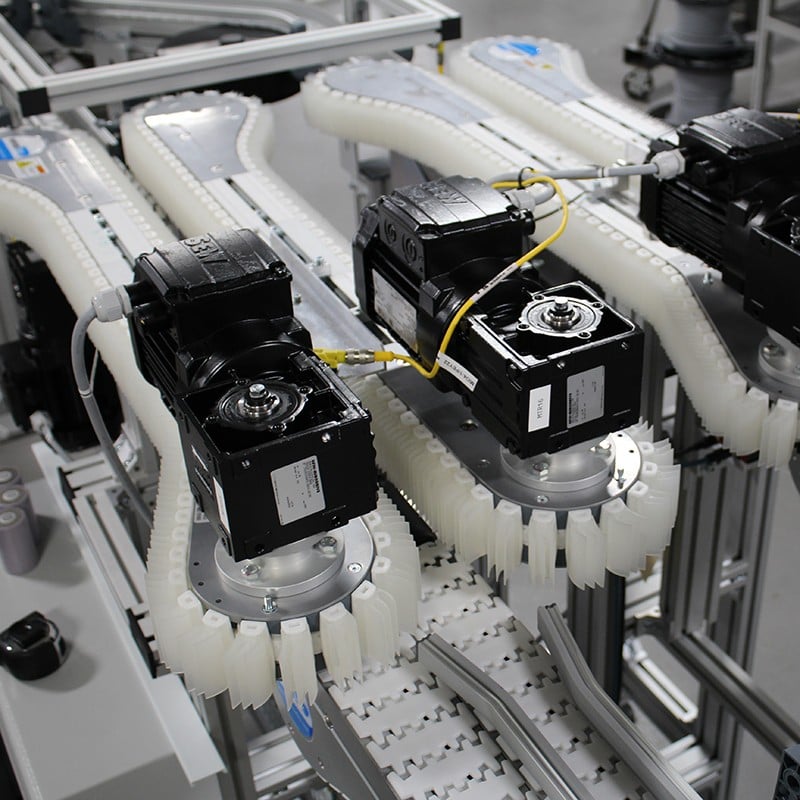 Wedge / Gripper Conveyors
Wedge conveyors can carry product over a gap and between processes.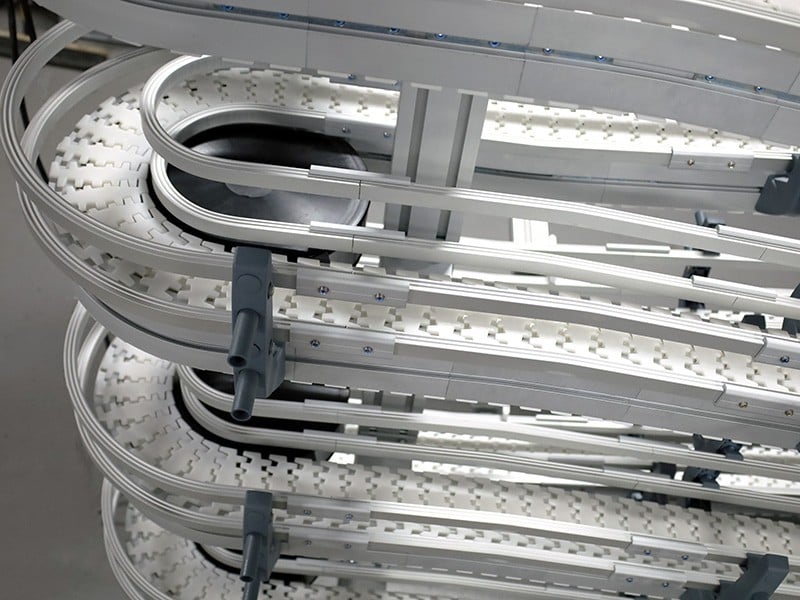 Alpine Conveyor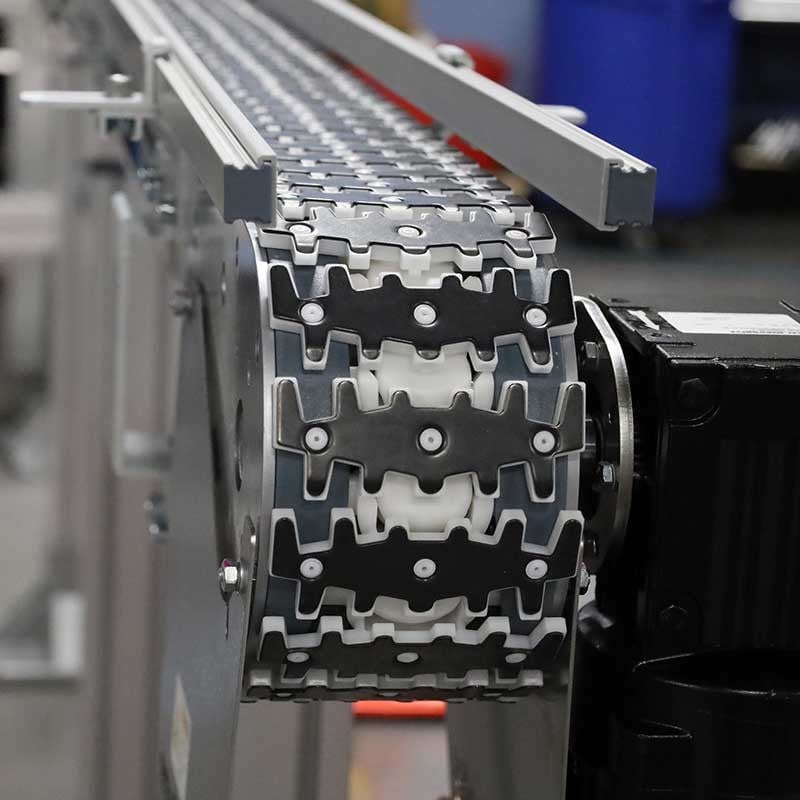 Custom Chain on a Conveyor
A flexible chain conveyor with a custom chain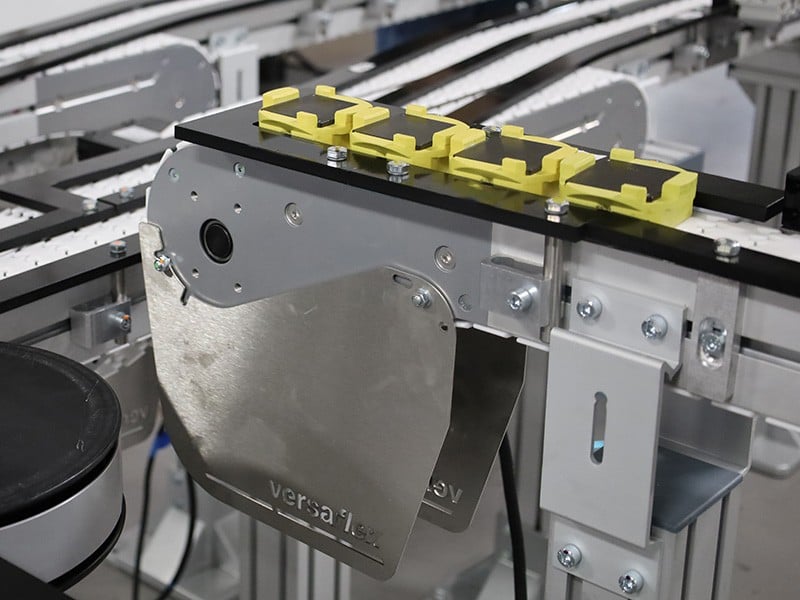 VersaFlex Conveyor with Custom Side Guides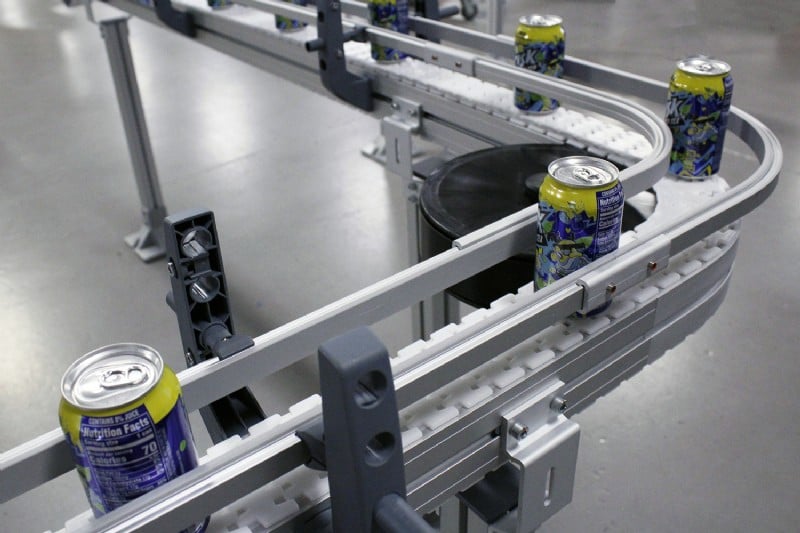 Flexible Cain Conveyor
The VersaFlex is ideal for carrying bottles and cans.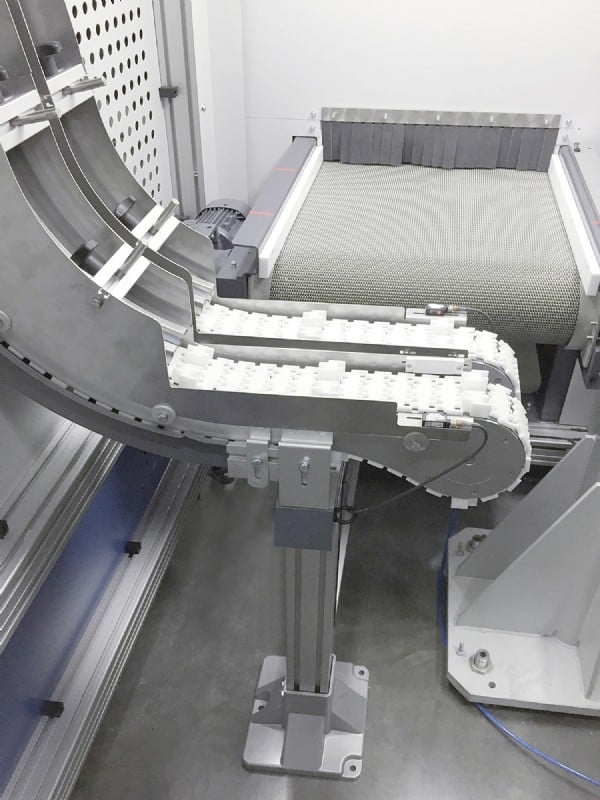 Vertical Conveyor
VersaFlex allows for conveying products vertically.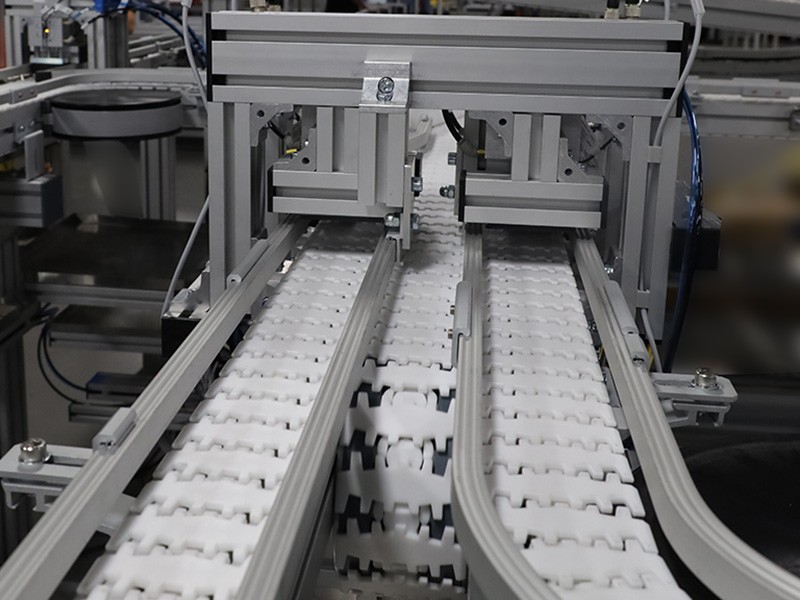 VersaFlex Conveyor with Gate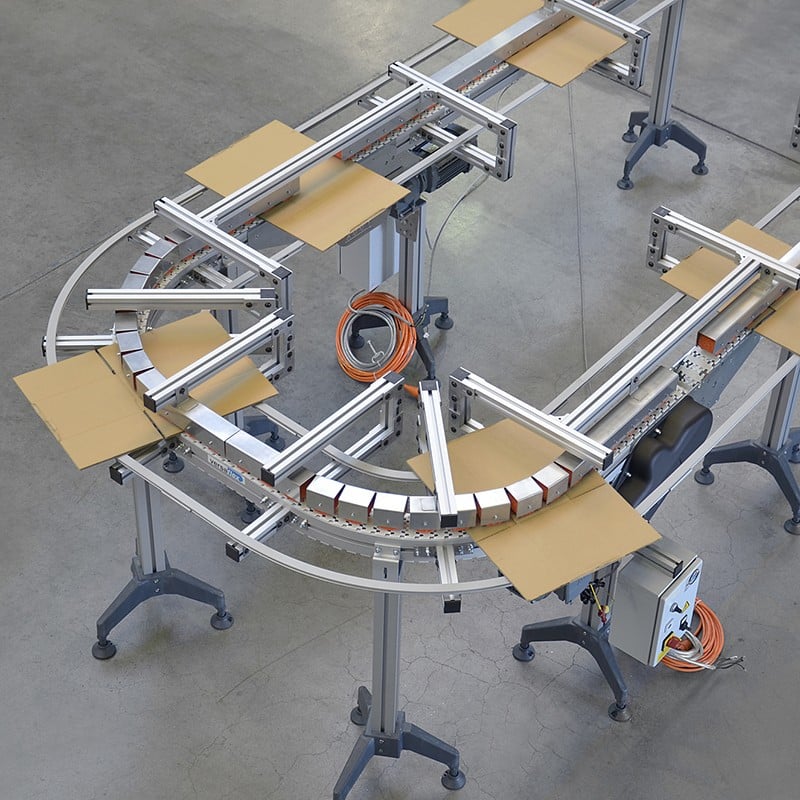 Packaging VersaFlex Conveyor
VersaFlex conveyors can be configured to carry wide product, such as these flattened cardboard cartons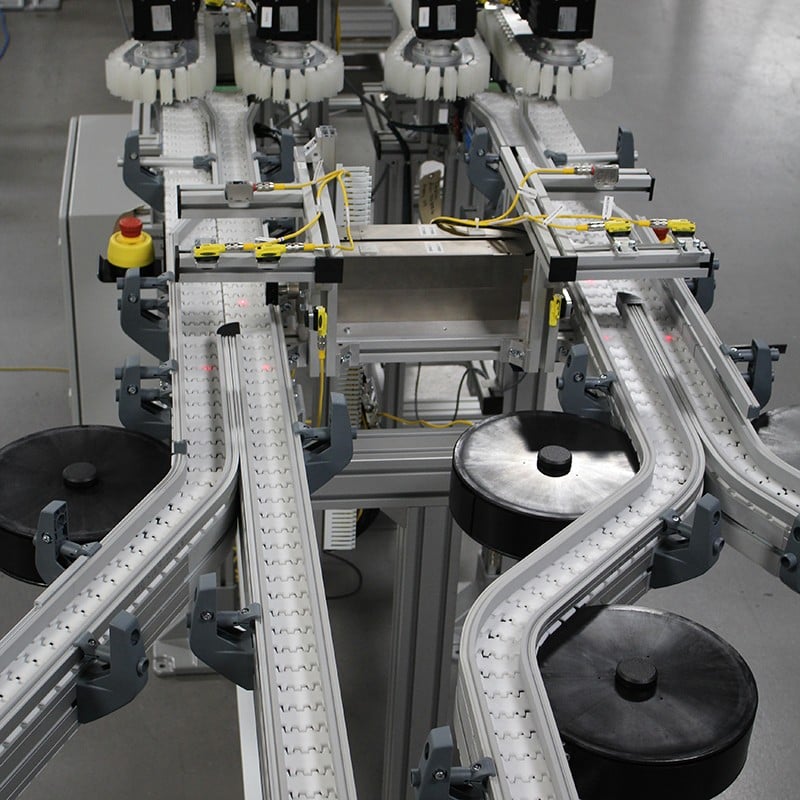 Multiple Conveyor Lines
VersaFlex conveyors are ideal for routing product in a variety of different directions.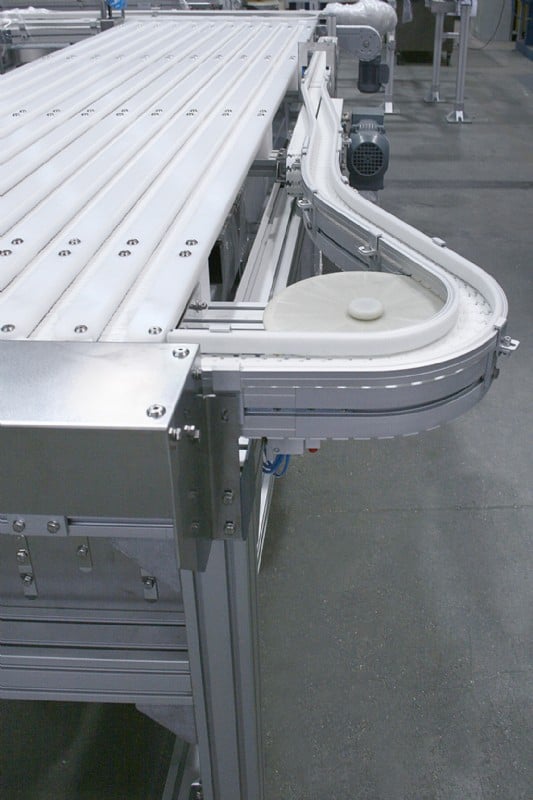 Accumulation Conveyor
Product can be accumulated in this multi-lane conveyor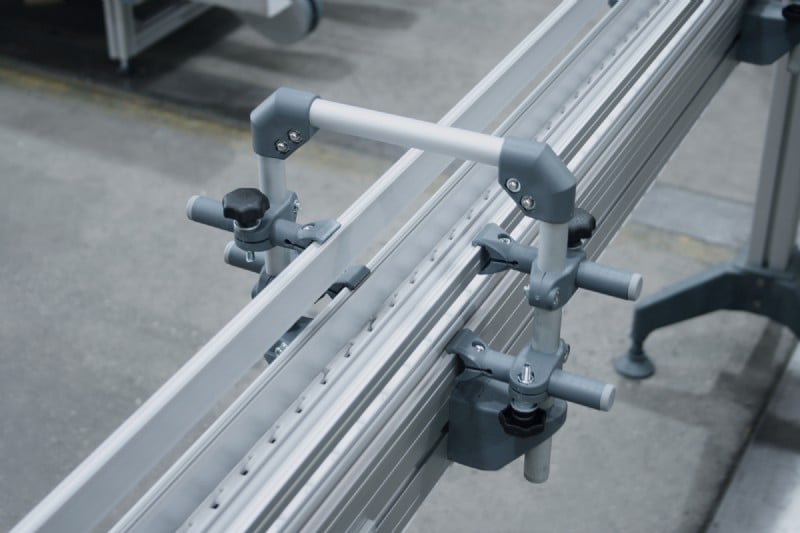 Custom Overhead Side Rails
This flexible chain conveyor features custom side rails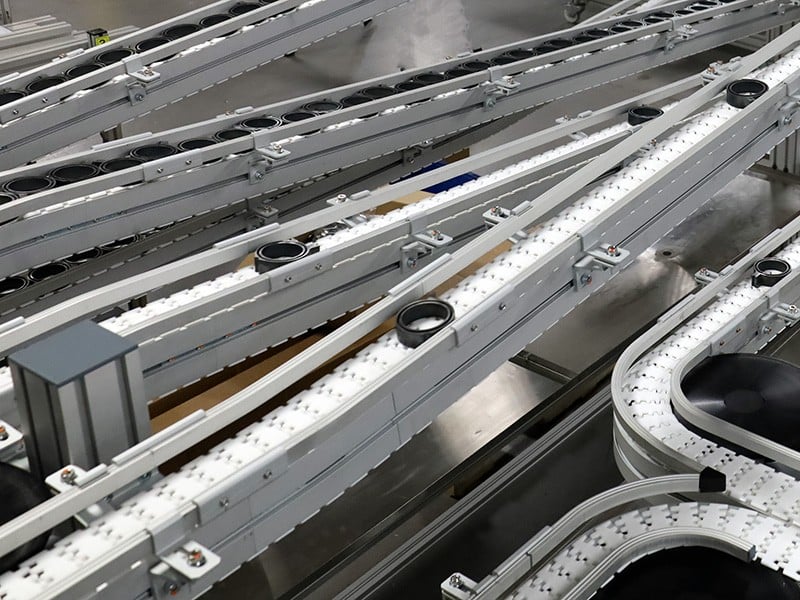 Complex Layout VersaFlex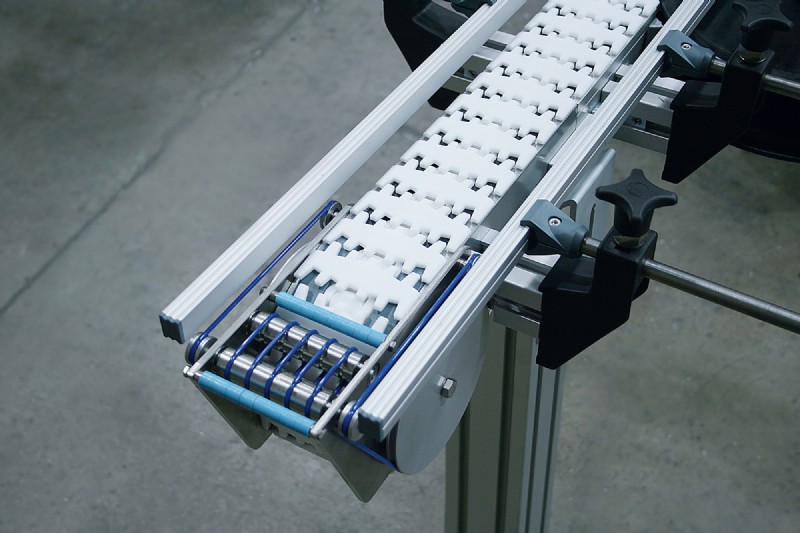 Powered Transfer Assist
This conveyor features a powered transfer assist at the infeed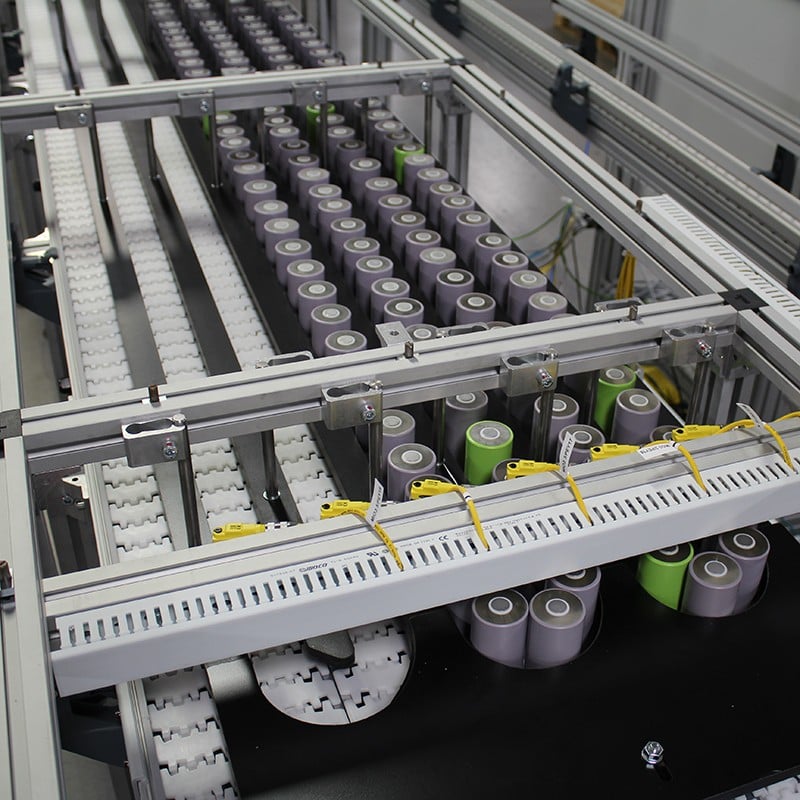 Accumulation and Storage with VersaFlex
VersaFlex conveyors are ideal for accumulating and storing product.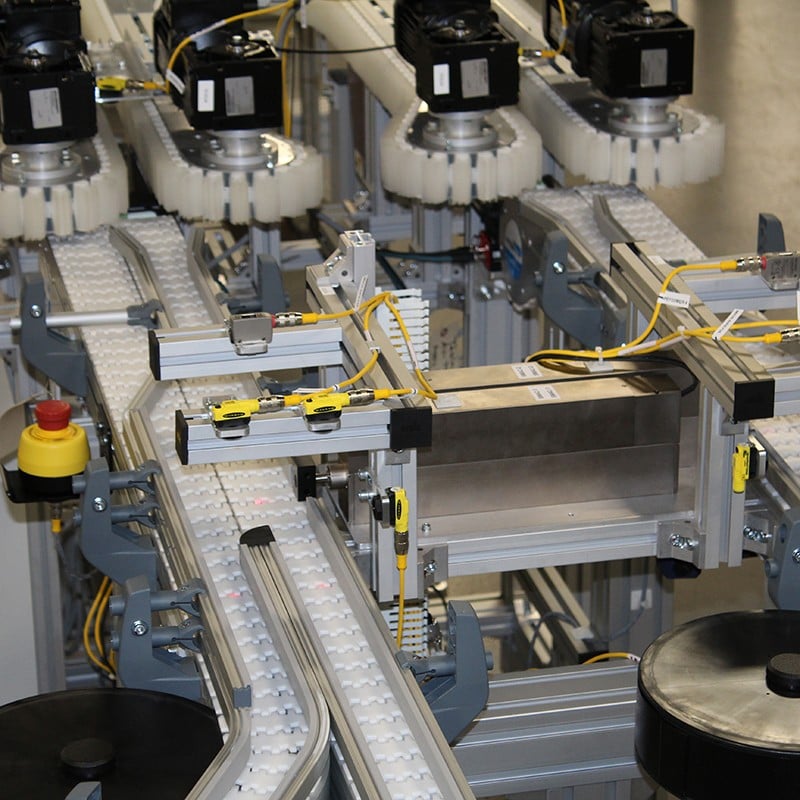 Merge and Wedge Conveyors
Product is sorted and merged into various lanes using wedge conveyors for side gripping.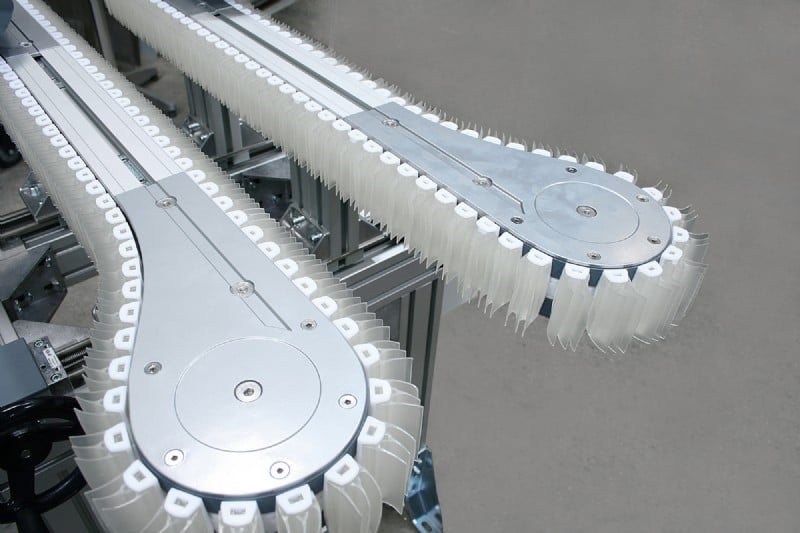 Side Gripper Conveyors
By using special belting and running the conveyors on their side, a side gripper conveyor is developed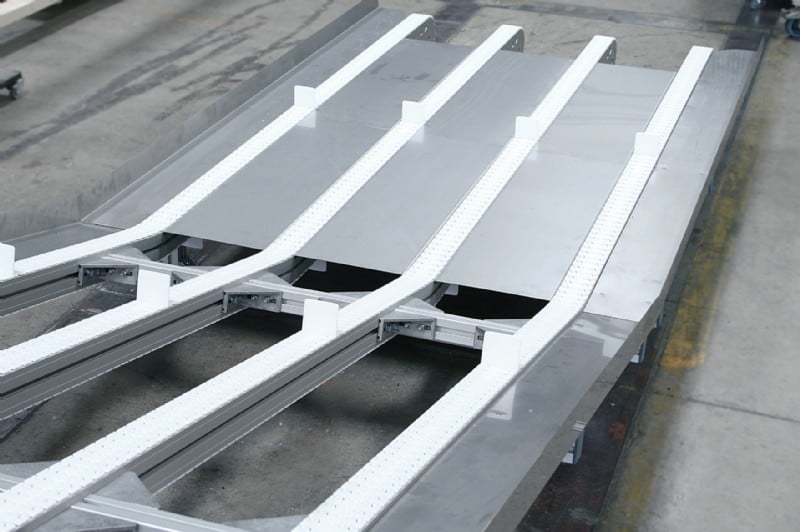 Multi-Lane Incline Conveyor
This multi-lane conveyor features cleats for assisting product up the incline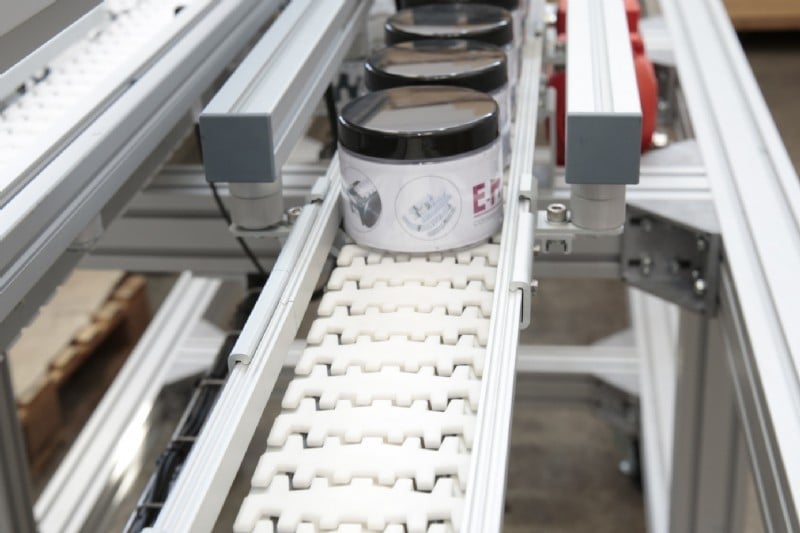 Canister Conveying
Flexible chain conveyors are ideal for many products including cans, bottles, canisters and other cylindrical parts.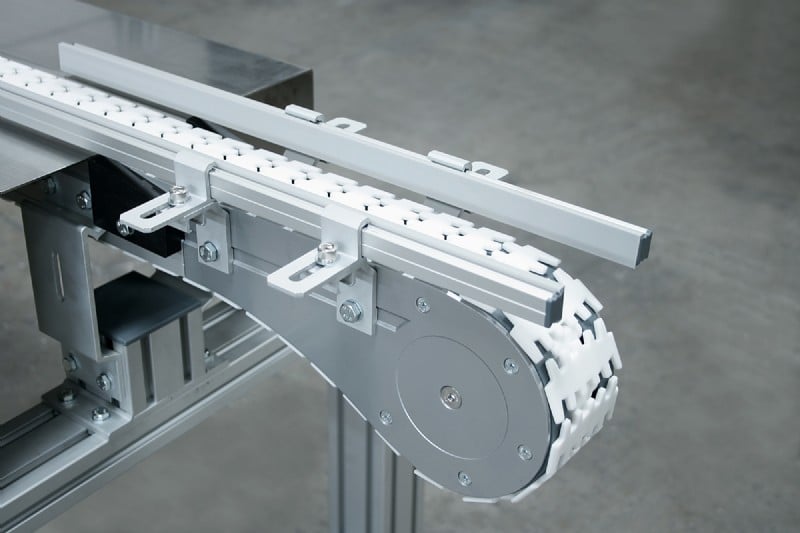 VersaFlex Infeed
The idler end of a VersaFlex conveyor with side rails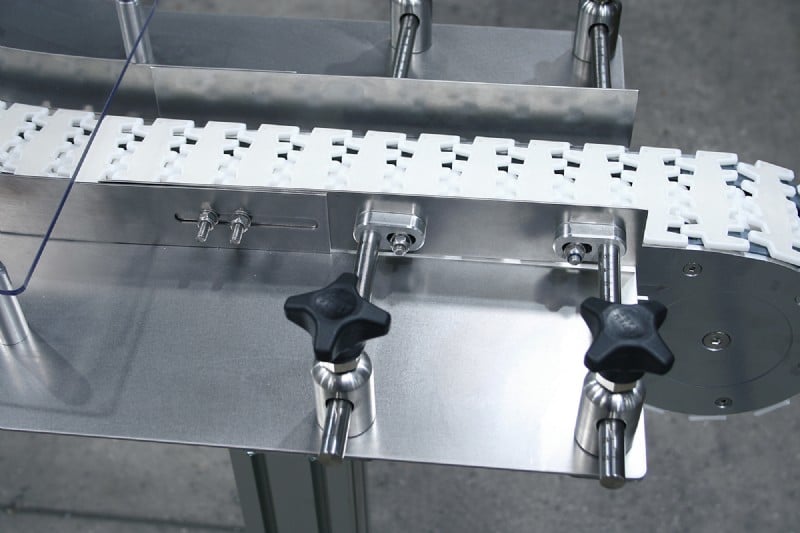 Infeed with Custom Side Rails
Custom stainless steel side rails are one of my options available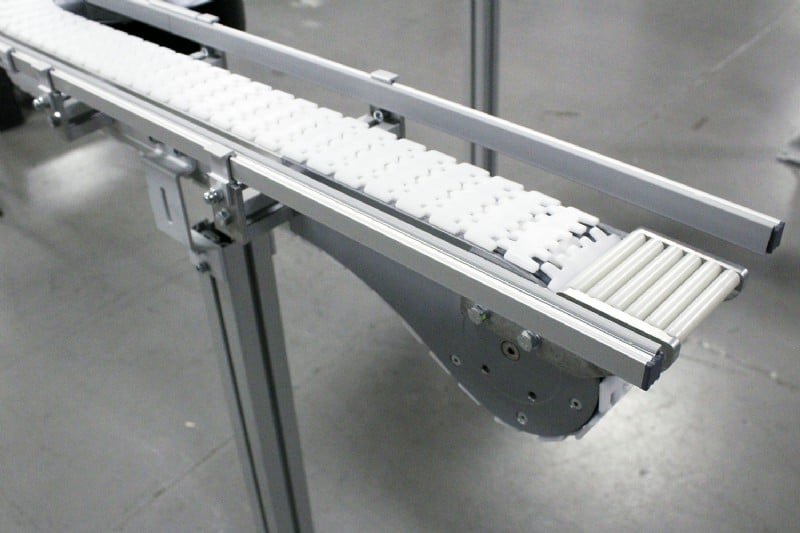 Roller Transfer on Table Top Chain Conveyor
Roller transfer on table top chain conveyors make it easier to transfer small parts between conveyors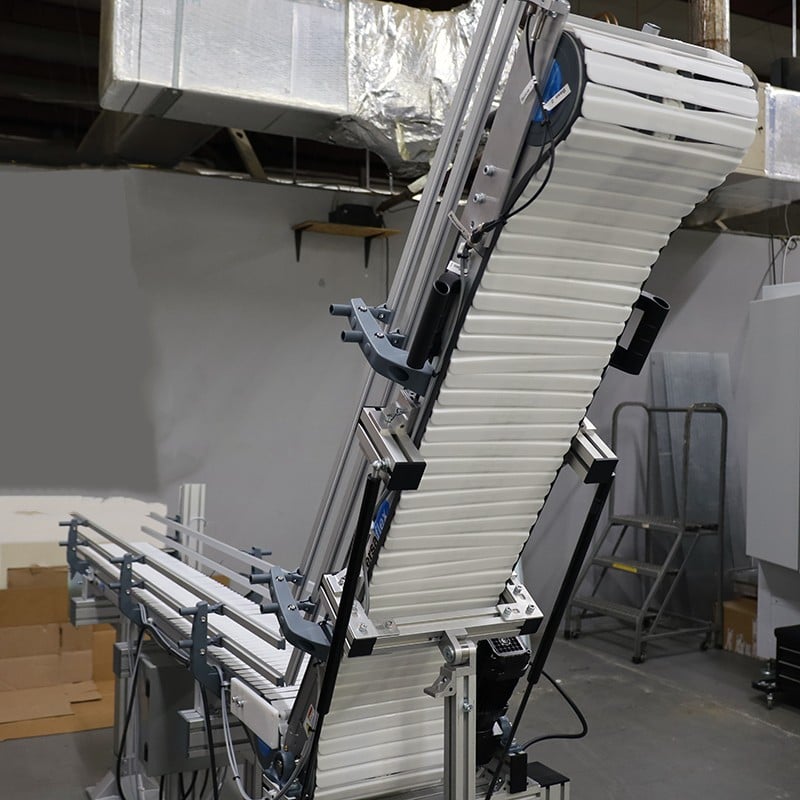 Line Access VersaFlex A29 Conveyor
A VersaFlex A29 conveyor acts as a lift gate conveyor allowing for line access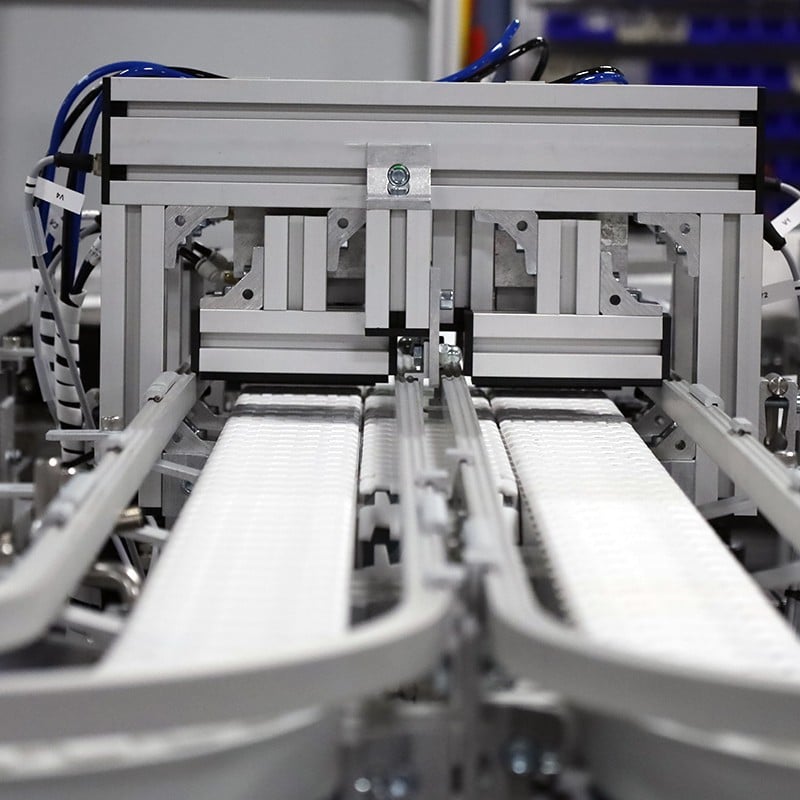 Two VersaFlex Conveyors with Stop Gate
Two VersaFlex conveyors run side by side and each feature a pneumatic stop gate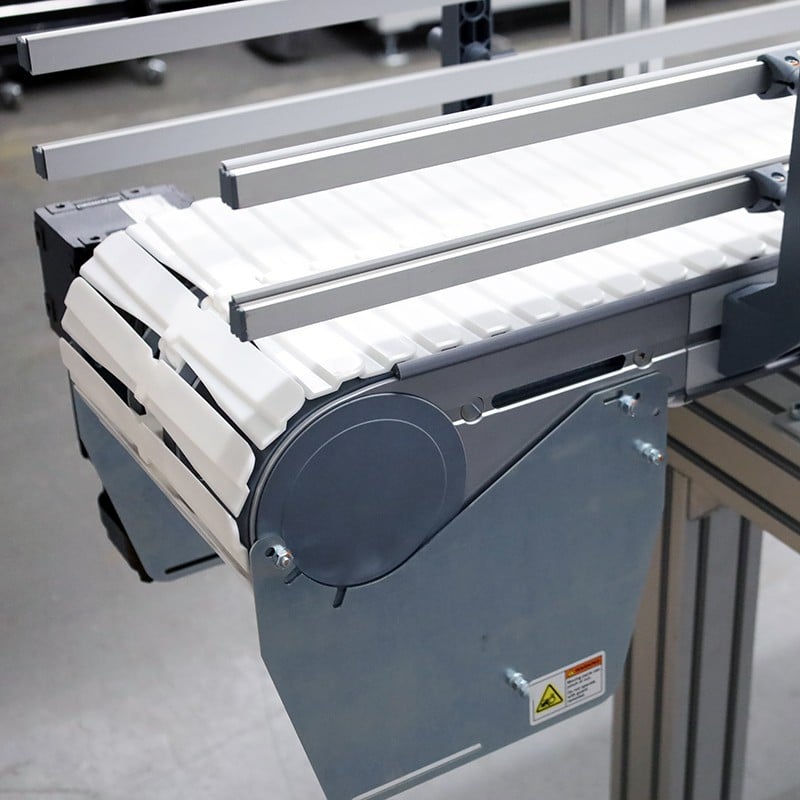 VersaFlex Chain Conveyor Drive Assembly
A VersaFlex A17 drive assembly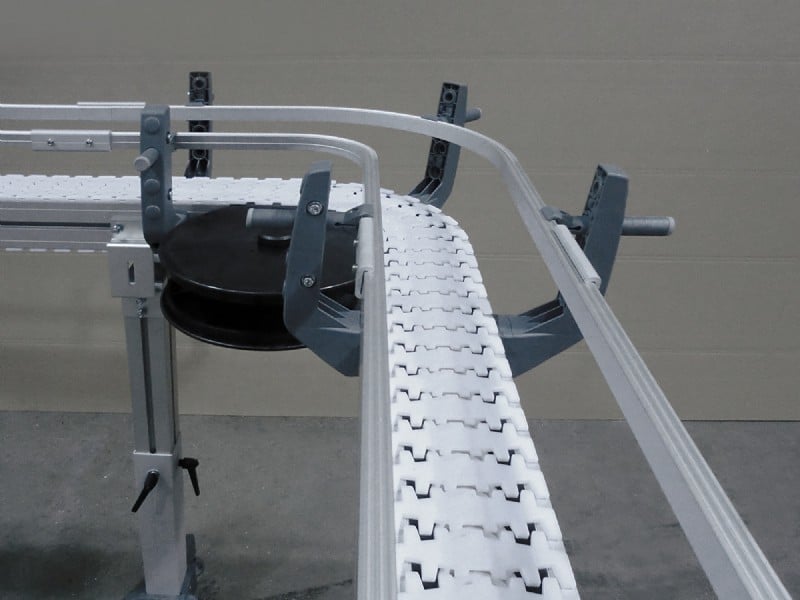 Curve Covneyor
A 90-degree wheel bend is just one of the many corner options available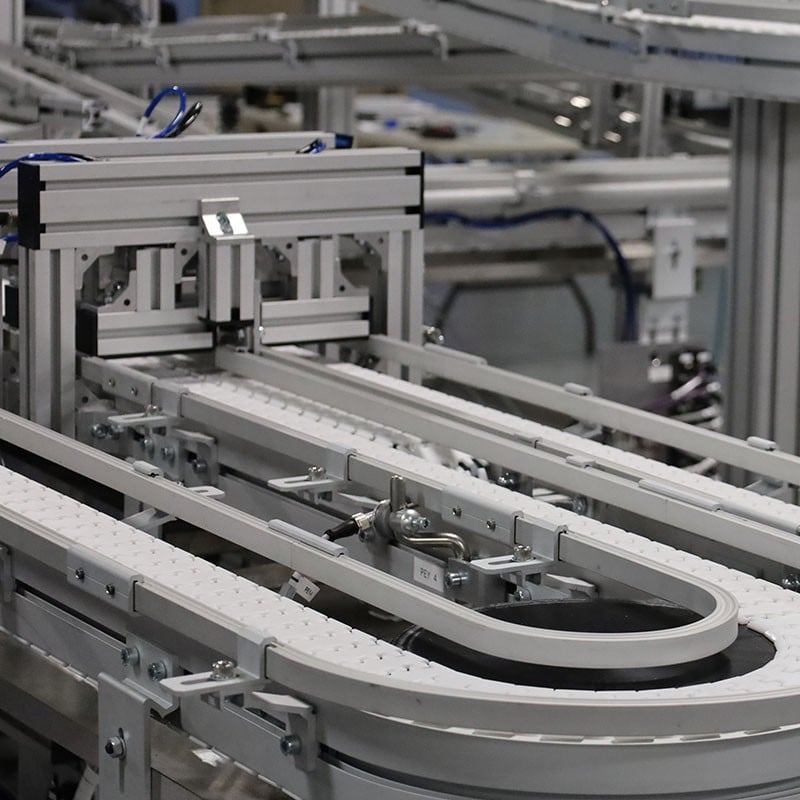 VersaFlex Flat Top Chain Conveyor
Multiple levels of VersaFlex flat top chain conveyors with curves and a stop gate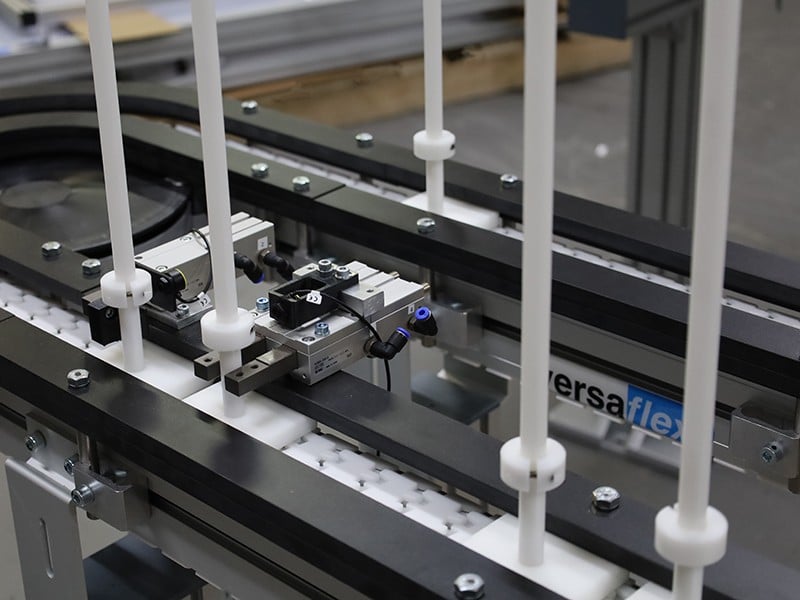 Flat Top Chain Conveyor with Gripper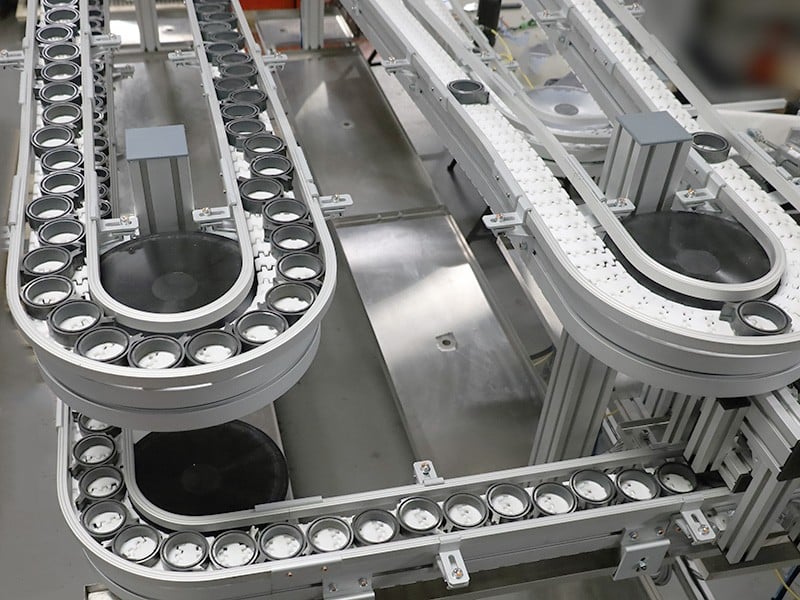 VersaFlex Part Carrying Conveyor