Employee Spotlight: Meet John
Posted on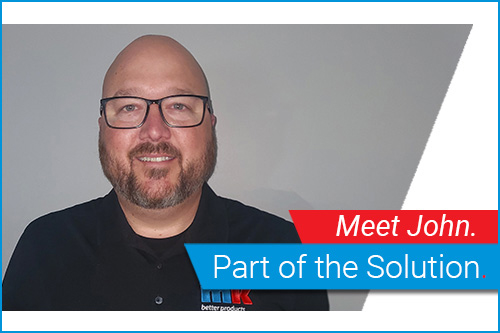 mk North America believes in offering not only a better product, but also a better solution; and our employees are an integral part of this belief. These are some of the faces that are Part of the Solution – making your next conveyor system a success.
Continue reading to learn how John is Part of the mk Solution.
Meet John
John has been with mk North America since May 2021, and has served as a Regional Sales Manager in Western Michigan during that time.
John is the face of mk in his territory in MI and assists customers and clients throughout the lifecycle of their automation projects. Or as John describes it, "I assist our customers with material handling concepts, solutions, and support."
John is driven by his unwavering dedication to the customer. "I value the opportunity to help our customers be successful. We may be a small part of their overall master plan, but there is great fulfillment when I see our product functioning in our customer's solutions. Being motivated is easy when you have a strong team at mk that is backing you up", says John.
John was nominated for this Employee Spotlight by his supervisor, Scott Blais, Jr., Sales and Business Development Manager. John's dedication to the customer is apparent; as Scott had this to say about John: "John is the epitome of what we seek in a Regional Sales Manager. His next level work ethic and on-site support for our customers has been exceptional since joining mk. He is a willing and active collaborator who brings many years of experience to the company and his day-to-day role. Above all else, John truly cares about his customers and takes pride in his work, which shows in his approach with his account relationships. This makes John a key contributor to our growing sales team at mk."
Speaking of a growing sales team, John had this advice to offer to anyone looking at a career with mk North America, "The customer comes first. Helping our customers to be successful will in turn lead to our success."
It's this employee dedication to the customer that is part of the mk difference.
The mk Difference
mk's President, Andreas Haussmann, often refers to the individuals that work at mk as "the difference" – the reason mk is becoming a premiere conveyor system manufacturer. "At mk North America," says Andreas "we believe that our people make the difference. It's their ingenuity, their passion and their dedication that make mk stand out, as the leading manufacturer of standard and custom material handling solutions."
If you are in the market for a conveyor system that meets your unique needs, then look no further than mk North America. We are the company that provides custom solutions for your unique application. mk North America, better products, better solutions – all because of team members like John.
---