Kevin Doughney - Reflecting on 25 Years at mk
Posted on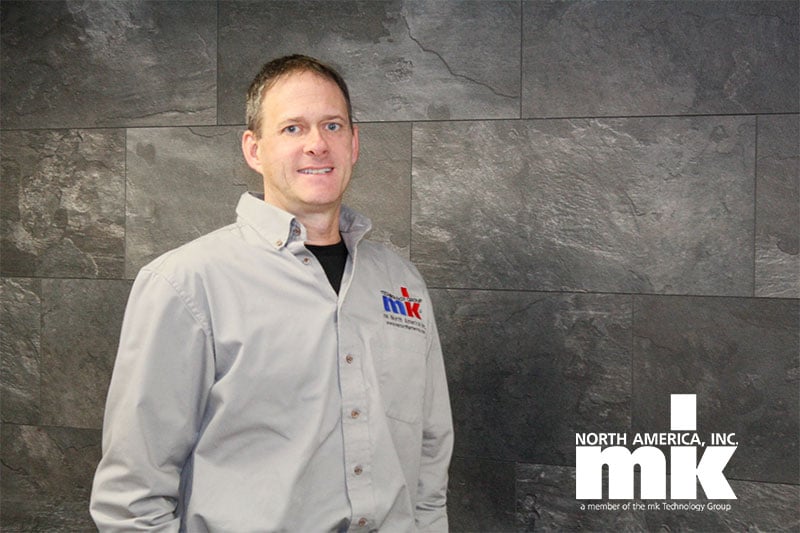 In 1993, Kevin Doughney had years of experience working as a machinist for Sikorsky Aircraft and United Technologies, and was looking to make a change to a smaller company. In the late fall of that year he met with a man named Andreas Tietje, who started the North American division of Maschinenbau Kitz just five years earlier, mk Automation Engineering. On December 5, 1993 Kevin became the fifth employee at mk. The rest, they say, is history. I had the pleasure of sitting down and chatting with Kevin about the changes he has seen not only in mk, but within the industry as a whole.
Kevin recalls when he started the warehouse space mk called "home" back then. There was no loading dock, there were huge columns in the way of everything, and there was no automated equipment. Despite all of the space and logistical challenges, Kevin recalls building enormous "pods" that were approximately 16'x8x8', designed for stacking floppy discs.
According to Kai Tietje, Director, Co-Owner and 30-year mk alumnus; "Kevin started in the Machine Shop, and we worked closely together on many designs where I could rely on his machining background and expertise."
Kevin quickly learned the mk product line, and time, and time again, he put his interpersonal skills to use; first working his way up to Machine Shop Manager. In fact, Kevin can vividly recall the many times he had to move the machine shop around; because as the company grew, and moved (to its current location) and expanded time and time again; the machine shop was retooled and moved.
Later Kevin moved into the position of Production Manager, working alongside another longtime mk alumnus Bob Gardner. Kevin laughs about how his job went from spending all day fabricating to watching other people fabricate all day.
"Kevin ultimately became the "go-to-guy" when it came to production support", said Kai Tietje, "and as such, it was natural to transition him into the office and Sales Department."
Kevin's unsurpassed product knowledge and years of product assembly and customer familiarity made him the perfect fit for Inside Sales Profile and Components; a position he began in January 2006. Kai Tietje said it best, "Kevin knows what he's talking about, and is conscientious in his responsibility, not only to the company, but to our customers as well."
Kevin has seen mk grow from small shop with five people, that accepted orders over the phone and via fax; to a company with nearly 100 employees, all who have internet-connected smart workstations at their fingertips. He has seen the company transition from one which primarily sold extruded aluminum profile and components to one which offers four major product groups (three of which are conveyor based, in addition to the profile and components). Kevin has seen the products that he oversees shift away from storage devices for floppy discs, to ultra-sleek and clean workstations designed for use in biomedical development laboratories.
Gone too are the days of telling customers about the benefits of t-slot aluminum extrusion versus the complexities of working with welded steel structures. Over the years Kevin has been able to grow mk's aluminum extrusion business, and expand its base of repeat customers.
When I asked Kevin about his most memorable experience at mk; he paused and really thought about it. Coming to work in the office was certainly a defining moment in his tenure at mk; and it allowed for a change in lifestyle. But was it the most memorable? Uncertain he replied "making it to 20 years before this". And so with that; I believe the best is yet to come for Kevin and his future at mk.
Congratulations Kevin Doughney on your 25 years at mk North America and thank you for all of your contributions to the company.
---