Part of the Solution: Meet Cathy
Posted on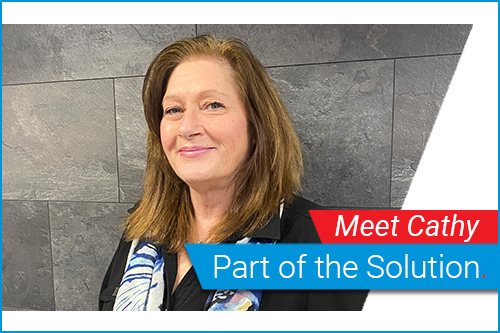 mk North America believes in offering not only a better product, but also a better solution; and our employees are an integral part of this belief. These are some of the faces that are Part of the Solution – making your next conveyor system a success.
Continue reading to learn how Cathy is Part of the mk Solution.
Meet Cathy
Cathy has been with mk North America since May 2005, and during that time she has held several positions with the company. In her current position Cathy is mk's Shipping Manager. Previous to that she held positions working at the front desk, purchasing, as well as Customer Service Manager.
Cathy, and her department, oversee packaging and shipping of every single order that comes through mk North America – from a bag of square nuts to complete multi-line conveyor systems.
I asked Cathy what drives her at work, and she replied: "I have always been a person that takes pride in what I do. Always striving to do better. Being a part of a team that wants to do the best is certainly icing on the cake. Working at mk for the last 17 years has been a great experience. I started when there was like 10 employees. Now we are over 100 (employees) and the still growing… (and) it still feels like you matter and make a difference even thou the company is much larger."
Cathy further went on to say: "we will bend over backwards to help the customer and make sure their experience with mk is exceptional." It is clear Cathy truly feels that she, and the rest of the mk team, are truly dedicated to the customer and their experience with mk.
Cathy also believes that those individuals looking to start a career in industrial automation will find a home at mk. "This is one of the best companies to work for. The company is family oriented and understands work life balance. Through hard times and good times, the company has been there" says Cathy.
Cathy was nominated for this position by Todd St. Pierre, mk's Vice President of Operations. Todd felt Cathy was well deserving of this honor and provided us with this snippet into why Cathy was nominated to be featured this month: "Stemming from her roots in Customer Service/Order Entry, Cathy is passionate about her work and mk and ultimately ensuring the customer is satisfied with their experience with mk. Cathy and her team, strive daily to ensure our products are packaged well and arrive to our customers on time and undamaged. She is hardworking and dedicated and cares deeply about her colleagues and the success of mk."
The mk Difference
mk's President, Andreas Haussmann, often refers to the individuals that work at mk as "the difference" – the reason mk is becoming a premiere conveyor system manufacturer. "At mk North America," says Andreas "we believe that our people make the difference. It's their ingenuity, their passion and their dedication that make mk stand out, as the leading manufacturer of standard and custom material handling solutions".
If you are in the market for a conveyor system that meets your unique needs, then look no further than mk North America. We are the company that provides custom solutions for your unique application. mk North America, better products, better solutions – all because of team members like Cathy.
---