Part of the Solution: Meet Edwin
Posted on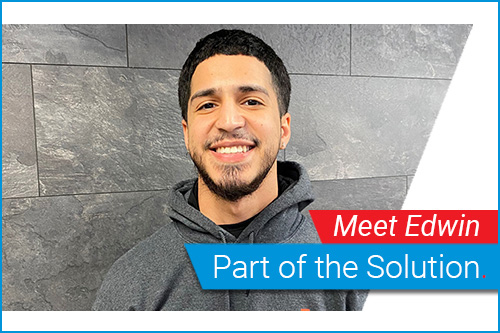 mk North America believes in offering not only a better product, but also a better solution; and our employees are an integral part of this belief. These are some of the faces that are Part of the Solution – making your next conveyor system a success.
Continue reading to learn how Edwin is Part of the mk Solution.
Meet Edwin
Edwin has been with mk North America since February 2022 working as an Assembler on mk's production floor.
As Edwin puts it "I am given a drawing, along with all the parts, and I put everything together". Assemblers at mk will construct everything from guards, to single conveyors, to ensure conveyor systems with multiple conveyors and accessories such as workstations. On some projects Assemblers work alone, but on larger projects it is a team effort.
I asked Edwin what excites him about his work at mk, to which he replied "I enjoy challenging projects and building something new. Seeing the end product is very satisfying".
Edwin further went on to say, "New employees should be ready and open to learning quick. Try to consume as much knowledge as you can". It's clear the fast paced work environment is a fit for Edwin.
Edwin was nominated for this position by Waldo Polanco, Assembly Supervisor. Waldo had many wonderful things to say about Edwin and his contribution to the team. "If we were in the business of sports, Edwin would be up for Rookie of the year. Shortly after starting his position as an Assembler a year ago, he quickly showed that he was not intimidated by tackling some of our biggest and more complex projects. He has flourished into an integral part of the assembly team in a very short time. As his supervisor, it gives me great comfort to have in my team people like Edwin. I am excited to see what his future brings for us here at mk".
The mk Difference
mk's President, Andreas Haussmann, often refers to the individuals that work at mk as "the difference" – the reason mk is becoming a premiere conveyor system manufacturer. "At mk North America," says Andreas "we believe that our people make the difference. It's their ingenuity, their passion and their dedication that make mk stand out, as the leading manufacturer of standard and custom material handling solutions".
If you are in the market for a conveyor system that meets your unique needs, then look no further than mk North America. We are the company that provides custom solutions for your unique application. mk North America, better products, better solutions – all because of team members like Edwin.
---