Part of the Solution: Meet Luis
Posted on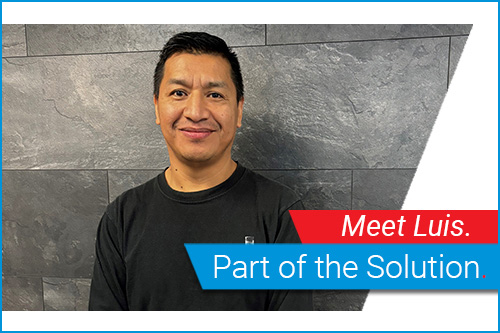 mk North America believes in offering not only a better product, but also a better solution; and our employees are an integral part of this belief. These are some of the faces that are Part of the Solution – making your next conveyor system a success.
Continue reading to learn how Luis is Part of the mk Solution.
Meet Luis
Luis began his tenure with mk in March 2022 in our shipping area. Currently Luis is the Lead Crate & Packaging Builder. In Luis's day-to-day activities he oversees the other employees on the shipping floor, works with Assembly on order shipping out to make sure he gets the correct dimensions for outgoing orders to ensure he builds the skids and crates to the correct dimensions. He then also packages up the larger assemblies for shipping, loads trucks, and helps with the packaging of the profile component and smaller orders. Additionally, he oversees the inventory needed in his department.
Luis was nominated for this employee spotlight by his supervisor, Cathy Creighton.
"Luis is a very hard-working individual, who will go the extra mile to ensure the job gets done. Luis takes pride in his area and in getting the job done correctly and timely. He will come in early and stay late to ensure we can get the shipments out on time. He is an asset to the company and well deserving of this nomination," says Cathy.
I asked Luis about what motivated him at work, aside from his obvious dedication to mk and a job well done, and he stated that it's his "family, and the desire to improve myself."
When asked what he would tell future employees, Luis replied "you become part of mk; it's a good company to work for."
It is individuals like Luis that create a welcoming and hardworking company culture, which puts the customer first.
The mk Difference
mk's President, Andreas Haussmann, often refers to the individuals that work at mk as "the difference" – the reason mk is becoming a premiere conveyor system manufacturer. "At mk North America," says Andreas "we believe that our people make the difference. It's their ingenuity, their passion and their dedication that make mk stand out, as the leading manufacturer of standard and custom material handling solutions".
If you are in the market for a conveyor system that meets your unique needs, then look no further than mk North America. We are the company that provides custom solutions for your unique application. mk North America, better products, better solutions – all because of team members like Luis.
---