Welcome Waldo Cervantes
Posted on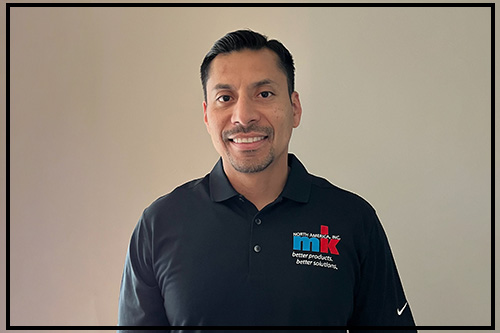 We're thrilled to announce that Waldo Cervantes has joined our team as Regional Sales Manager for VA, NC, SC, and TN. Waldo will be based in Charlotte and is looking forward to meeting you all soon. He can't wait to get started on the great work we do at mk!
Waldo boasts impressive experience in the conveyor industry. He was previously an applications engineer and sales engineer before serving as a regional sales manager for another industrial conveyor OEM.
mk's enthusiasm for Waldo was best captured when Scott Blais Jr, Sales and Business Development Manager, said of him: "We are extremely excited to add a professional like Waldo to our growing sales team. With his industry knowledge, hard work ethic, and high-character personality, he was a natural choice for this position. We have the utmost confidence in Waldo's abilities in his new role with mk and believe he will create a fantastic customer experience for the companies that work with him and mk moving forward."
Waldo has excellent communication skills, is technically capable, and is a team player eager to assist customers in ensuring the best possible solution for their unique application. Additionally, Waldo is fluent in English and Spanish.
When asked what he was most looking forward to about working for mk Waldo commented "Collaborating as a team with our engineers to provide the very best solutions, service and support to our customers".
You can find Waldo's contact information by visiting our Local Sales & Support page.
---