Employee Spotlight: Scott Blais Jr. - Sales
Posted on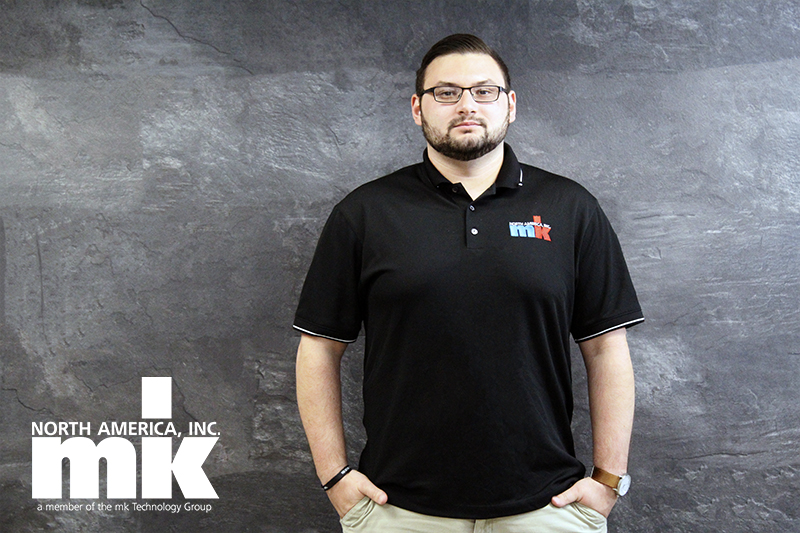 In May, I had the chance to sit down with Scott Blais Jr., who is currently an Inside Sales Associate. I started my conversation with Scott, a recent college graduate but an mk alum by asking him, what drew him to wanting to work at mk North America. Scott explained to me about how mk has always been a part of his life.
Scott was looking for a summer job in 2014, one that offered more than ones he had previously. When he approached mk's Production Manager at the time, Mike D'Addario, about a position and one was found in Assembly. It was the people that he worked with during this time that really helped him grow as an individual and a professional. Scott spent a good deal of time talking about how his co-workers; namely Ray Rodriguez, his father, Joe Colbert, Shawn Hall and Tommy Ziemba; took the time to teach him and helped propel him forward. Scott feels that these individuals are the main reason he became so interested, driven and loyal to the company.
As Scott continued on with his education he also sought advancement at mk and approached the company's, President Andreas Haussmann, about a part-time position in Sales. April 2017; with the full support of all of the departments involved Scott made the move. Within two or three months of the move, Scott knew it was the right decision for him and that mk was a company he wanted to be with long term. He knew there was so much to learn and the ceiling for advancement was high.
So Scott adapted his class schedule around mk; taking a number of online classes. And although it was tough adapting to his new schedule and roles, Scott made it work. In early 2018 Scott became a full-time employee as he finished up his degree.
Every day Scott strives to live up to his favorite quote, which is from the movie The Departed "I don't want to be a product of my environment. I want my environment to be a product of me." - (Frank Costello (Jack Nicholson)). This truly resonates in how he approaches his work and his appreciation for working on challenging projects while keeping up with the day to day quote volume in Sales.
When I asked Scott's supervisor about him, Tom Schaffer, Sales & Business Development manager he replied, "We are delighted with Scott's enthusiasm and energy to develop new processes for quoting efficiency and customer relations."
When I asked Scott about what he found the most interesting or what he enjoyed the most about working at mk, he told me how he's excited to be working on the process improvements in Sales. He truly feels we have the best people and the best product and greatly appreciates how management has an "open door" policy.
Scott is a recent graduate from Westfield State University, where he majored in Communications, with a concentration in Public and Corporate Communications, and a minor in Public Relations. He feels strongly that the business classes he took will be a strong asset to his position at mk now and in the future. Scott is an avid "Photoshopper," a fan of the TV show Mad Men, and a huge New England sports fan – expect for football in which case he's a life-long Philadelphia Eagle's fan.
On the perfect non-work day you would find Scott out and about meeting new people, playing his guitar and perhaps enjoying a mimosa.
As part of our 30th anniversary at mk North America, we're taking the time to get to know some of our employees better. Some of the individuals you will meet in these blog posts have been with mk for a number of years, while others are just starting out. But regardless of how long they have been with the company or what their role is, they are all a vital part of the organization, lending to mk fulfilling its mission and its promise to provide not only a better product, but also a better solution.
---